To say Blackhawks fan Russell Pederson is confident in Chicago's shot at winning their second Stanley Cup in four years would be significantly short of an understatement.
Pederson, a Momence, Ill. resident, said he doesn't believe in jinxes -- and that's why, last Wednesday, he had the year "2013" added to the base of the Stanley Cup he has tattooed on his right arm, NBC Chicago reports.
Story continues below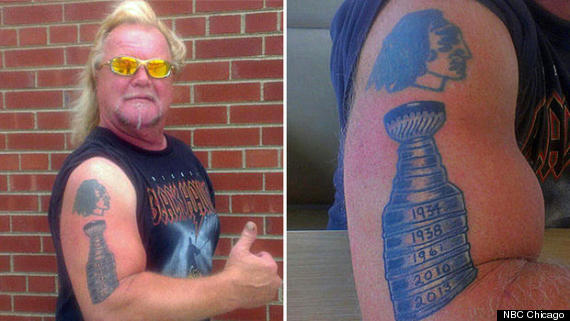 According to the Daily Journal, Pederson got the initial tattoo after the Hawks' 2010 Stanley Cup win and wanted to update his ink to "show my faith in the team," though his tattoo artist advised against the leap of faith.
"To do it before the team does it... that's brave," Teray Spence, the tattoo artist, told the Daily Journal.
While Pederson is confident it's the Hawks' year, the team might just wrap things up sooner than the diehard fan expected: he told NBC last Wednesday, with the series then standing at 2-1 in Bruins' favor, that he expected the series would go seven games.
BEFORE YOU GO
PHOTO GALLERY
Blackhawks 2013 Quest For The Cup