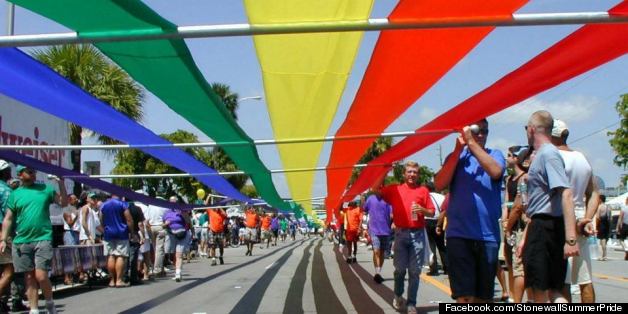 WILTON MANORS -- Couples waving rainbow flags and sipping on ice-cold drinks packed Wilton Drive Sunday for the second day of the annual Stonewall Summer Pride Festival.
The two-day festival celebrating the LGBT community began Saturday afternoon and stretched into Sunday evening. The festival, which was expected to draw more than 30,000 people, was spread out over two days this year and included the Twilight Parade on Saturday night.
Craft artists, food trucks like The Rolling Stove, and human rights organizations lined Wilton Drive, which was closed to traffic Saturday through early Monday morning.
Festival-goers said that more families and friends turned out for the celebration this year.
"It's become less of a party and more about individuals talking about the issues," said Bryan Wilson, a director for Sunserve, a social services agency. "It's growing in scope. ... This isn't just a gay event, it's a family and friends event too."
Organizations like the Aids Healthcare Foundation and Human Rights Campaign handed out free T-shirts and gifts. Anyone who took a free HIV test at the Aids Healthcare Foundation booth got a red shirt that said "Love Condoms."
"It's a one-minute instant test," said foundation worker Jason Thomas. "We can test thousands of people all over South Florida."
Teenagers Sissai Diaz and Julisa Castro walked through the festival Sunday with their families. They donned bright yellow sunglasses from the Coconut Creek Seminole Casino.
"It's better than last year," said Diaz. "It was raining then, and there weren't as many people."
Alex Barreto and Luisa Escobar returned to the festival for a second-time this year. They said the event provides support for the LGBT community. This year's festival theme was "Journey Toward Equality."
"It unites people and brings more awareness," said Escobar.
But both women said they liked the festival better as a one-day event since they missed the parade the night before. It began at 7:30 p.m. Saturday and was led by Craig Stevens, anchor of WSVN Channel 7 News.
"We wished they kept it the same as last year -- it was massive," said Escobar. "There were tons of floats, flamboyant floats, and a big rainbow flag that everyone marched under."
Live DJs, beer tents and games from sponsors such as the Florida Panthers entertained the thousands of people who walked along Wilton Drive from Northeast 20th Street to Five Points at Dixie Highway. Local restaurants in the area also offered food and drink specials.
Many people wore bright-colored clothes and shirts printed with LGBT sayings. One man's shirt said "Gay by birth -- proud by choice."
Michael Nieves, who went to the festival for the first time Sunday, said he enjoyed the more laid-back crowd in Wilton Manors compared to events in Miami.
"It's an extremely gay-friendly community," said Nieves.
hcarney@tribune.com or 954-356-4188 ___
BEFORE YOU GO
PHOTO GALLERY
The Best Gay Kisses