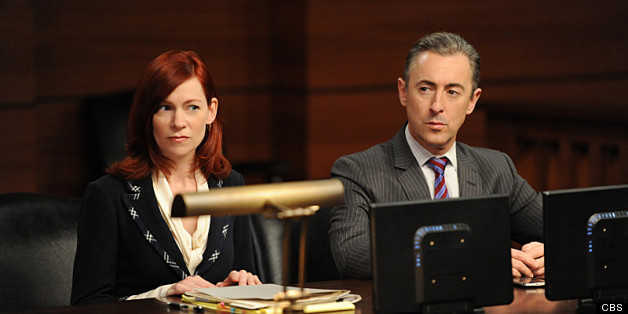 Carrie Preston will likely be back for "The Good Wife" Season 5 ... but what about a spinoff?
After every appearance she makes on "The Good Wife," fans start the Elsbeth spinoff chatter. Preston's character Elsbeth Tascioni, a flighty lawyer who operates in her own little world, has become a fan-favorite guest star on the CBS drama.
"There have been quite a lot of suggestions for an Elsbeth spinoff," Preston told EW. "Some of them involve [Kyle MacLachlan's character]; some of them involve Michael J. Fox's character; some of them involve Martha Plimpton's character. I take that as a big compliment. I am very flattered by that. My Twitter feed often lights up with Elsbeth spinoff suggestions, and I would certainly not be opposed to something like that. I just love playing the character, and it is really exciting that she has struck some kind of nerve in people that makes them want to see more of her."
In February 2013, Preston told The Huffington Post nobody was officially asking about an Elsbeth spinoff, but she'd consider it.
Preston did, however, reveal to EW that she has heard from "The Good Wife" producers about reprising the role of Elsbeth for the fifth season. "I will say they have reached out to see if I'm available for a particular episode ahead of time," Preston said. "If I'm available then they will write for me, but it's not any kind of formal offer yet. I haven't seen any scripts. I think they're just now getting back to work. So it would be for something that we would shoot a couple of months from now."
Back in February, HuffPost TV asked Preston why she thinks Elsbeth has clicks so well with viewers. "I think she's so unusual, she's just not like the other kids," she said. "I think it's just maybe refreshing to come at that show from another angle. She's kind of like a little cayenne pepper, you know? A spice into the show. I think that grabs people's attention, but I also think the writing is quite interesting and different, rather unpredictable. I think anything that is unpredictable is usually something that people want to pay attention to."
"The Good Wife" returns for a fifth season in September, but there are some changes. At the end of Season 4, Alicia (Julianna Margulies) agreed to leave Lockhart/Gardner with Cary (Matt Czuchry) and start their own firm.
"The next 15 episodes of the next season are mapped out quite well. I can't go into it because I think Season 5 may be more exciting than any of the seasons we've seen," Margulies told HuffPost TV in April.
The cast for "The Good Wife" Season 5 will be a bit bigger when the show returns. Zach Grenier, David Lee to "Good Wife" fans, has been promoted from recurring player to series regular.

"The Good Wife" returns Sunday, September 29 at 9 p.m. ET on CBS.
PHOTO GALLERY
The Good Wife
BEFORE YOU GO