Today is the 161st birthday of Catalan architect and designer Antoni Gaudi. If you've caught a glimpse of the amazing Google Doodle created in his honor, you can see that the Modernista creator of Sagrada Familia and other notable Spanish monuments is sort of a big deal.
As an architect, Gaudi possessed a distinct vision that incorporated nature, religion and Catalan culture to create beautiful organic monuments that remain hallmarks of Spanish architecture. Attention to detail was a marked trait of his colossal churches and palaces, culminating in swirling terraces and bulging balconies that lent a whimsical touch to familiar neo-gothic and orientalist styles. His unique imaginations paved the way for the emerging Catalan Modernisme and Renaixensa movements, which soared to success in the late 19th and early 20th centuries.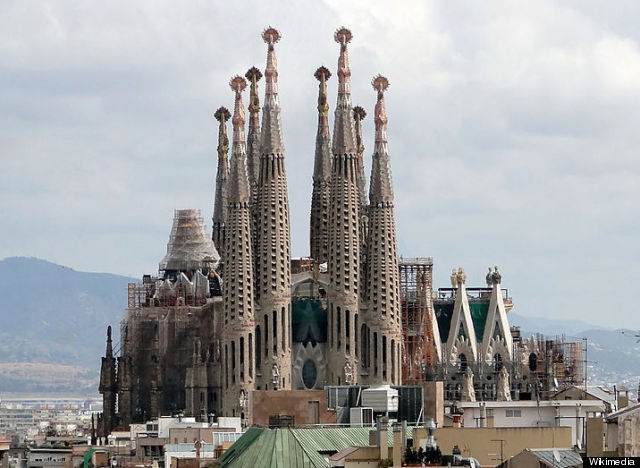 Sagrada Familia
It was in 1883 that Guadi was put in charge of his crowning achievement -- a cathedral project to be called the "Basilica i Temple Expiatori de la Sagrada Familia". From 1915 until his death, Gaudi devoted most of his attention to this still-incomplete masterwork, while accepting numerous other commissions such as the Casa Batlló and the Casa Calvet.
In terms of his personal life, Gaudi remained romantically unattached, seeking solace in his strong faith and unwavering artistic passion. He died tragically on June 7th, 1926 after being struck by a passing tram. But his legacy lives on through the ongoing reverence paid by visitors to his creations in Spain, as well as through the works of inspired architects like Santiago Calavatra and Norman Foster. Perhaps it is not surprising, then, that many of Gaudi's works have been deemed UNESCO World Heritage Sites; former Pope Benedict XVI even consecrated the Sagrada Familia in 2010.
We'd like to propose a toast to the Catalan architect's 161st birthday. Antoni Gaudi, you truly are one of the greatest artists of the 20th century. Check out today's Google Doodle above and let us know how you are celebrating Mr. Gaudi in the comments.
PHOTO GALLERY
Antoni Gaudi