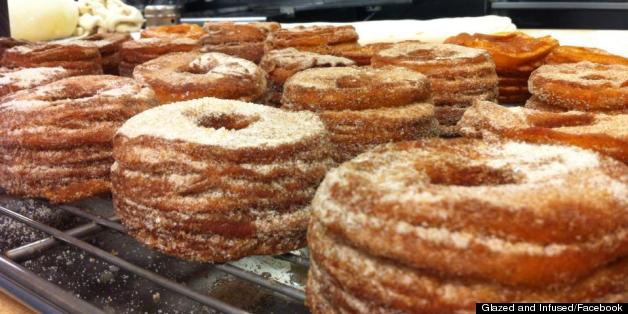 Sure, two weeks ago we noted the two suburban Chicago bakeries who've already tapped into the "cronut" craze by creating their own versions of the Dominique Ansel Bakery-created pastry were "probably not [the] last" locals to do so.. but wow. That was fast:
Since then, three bakeries within city limits have also begun selling their own spins on the hybrid donut-croissant.
As the Chicago Tribune's Monica Eng noted, La Boulangerie has been selling what they're calling "crognets" -- croissant-beignets -- at $5 apiece since at least Saturday from both their Lakeview (915 W. Belmont Ave.) and Logan Square (2569 N. Milwaukee Ave.) shops. According to the shop's Facebook, they are available glazed with either classic vanilla, caramel or bacon vanilla frosting, filled with fruit jam or chocolate glazed with vanilla filling. See for yourself: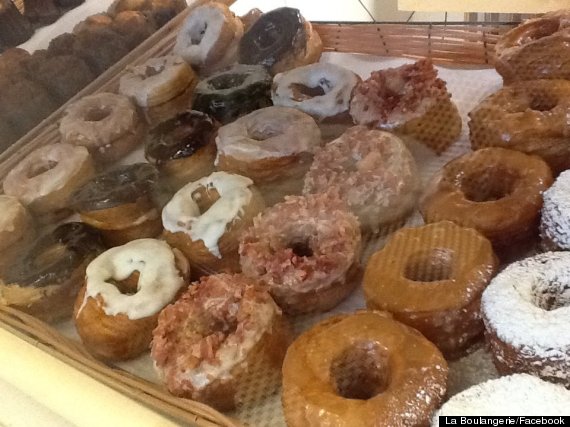 Meanwhile, the wildly popular Glazed & Infused local chain is also serving cronuts, but only at its flagship 813 W. Fulton Market location and apparently only on Saturday mornings for now. Since "cronut" was already trademarked by Ansel's bakery, it remains to be seen which variation of the treat's title they will go ahead with to avoid any legal donut drama.
Not to be outdone, the West Town Bakery & Diner over the weekend also appears to have debuted a "doughssant." According to Facebook, the bakery's executive pastry chef Chris Teixeira developed the "delicious mashup of a croissant and a filled long john doughnut" in three flavors: chocolate raspberry, blueberry lavender and coffee cream cheese. They are available at both their 1916 W. Chicago Ave. shop and in their ACME Hotel location at 15 E. Ohio St.
Unwilling to part with the five spot to try one of these "pastries of the 1%" but still curious to see what all the black market-inspiring fuss is about? You could always try frying up your own, via this Refinery29 recipe.
BEFORE YOU GO