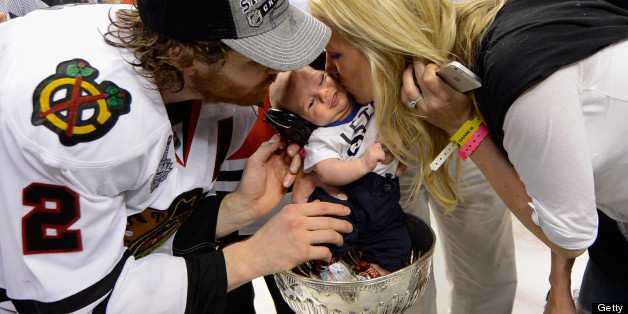 Once the hard fought 2013 Stanley Cup Final was over, the Chicago Blackhawks got downright adorable.
Following his team's thrilling Game 6 victory over the Boston Bruins, Chicago defenseman Duncan Keith shared the incredible moment with his baby son, Colton Duncan Keith.
In an heartwarming scene, Duncan put young Colton, who was born in May, in the Stanley Cup, feet first. Although he was sporting a pair of noise-canceling head phones, the party seemed a bit much for the toddler. Needless to say, there will definitely come a time when he understands how many hockey fans would have loved to take a seat in the Stanley Cup.
Baby in the Cup! - pic.twitter.com/aL87Dui3WA

— Sean Leahy (@Sean_Leahy) June 25, 2013
Beautiful scene of Duncan Keith with his newborn baby on the ice pic.twitter.com/ciwDlzHVME

— Mike Darnay (@MikeDarnay) June 25, 2013
BEFORE YOU GO
PHOTO GALLERY
PHOTOS: Stanley Cup Final Game 6