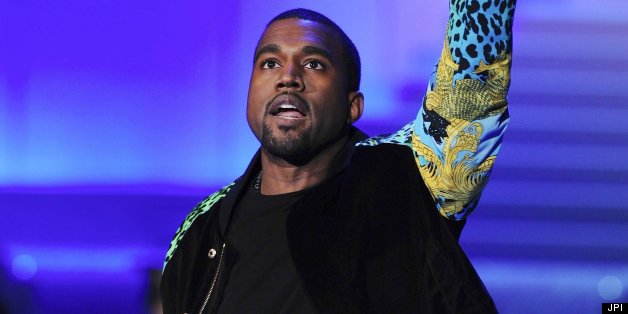 Following a leak that prompted diminishing sales expectations, Kanye West's "Yeezus" has reportedly sold 221,535 copies with 50 percent of first-week sales data reported, according to Hits Daily Double. That means West is expected to have edged out J. Cole's "Born Sinner," making "Yeezus" his fifth consecutive Billboard No. 1.
UPDATE: Semi-official end-of-week numbers are in, with West leading Cole by about 30,000 unites (much slimmer than initially expected).
The original article continues below.
J. Cole's sophomore effort "Born Sinner" has sold 203,907 copies with 50 percent of reporting, meaning West is leading him by fewer than 18,000 units. West's returns reflect a slight dip from the first forecasts set for "Yeezus," which found industry insiders predicting a 500,000-copy debut. That number quickly dwindled to about 340,000, with J. Cole expected to sell about 300,000. West's most recent solo effort, 2010's "My Beautiful Dark Twisted Fantasy," entered the charts with 496,000 copies to its name.
It's worth nothing, however, that Hits Daily Double data often skews to digital sales, as that data is available faster than physical units. An artist like West often moves a significant amount of music in brick-and-mortar stores, so HDD's numbers should be taken with a grain of salt.
Billboard's chart won't be released until Wednesday, but according to Hits Daily Double's roundup, three other new albums will make a splash in the top 10: Mac Miller's "Watching Movies With The Sound," Kelly Rowland's "Talk A Good Game" and the deluxe version of Hunter Hayes' self-titled debut album. Last week's No. 1, Black Sabbath's "13," is expected to fall to No. 9.
Additional new albums expected to find their ways onto the chart include Empire of the Sun's "Ice on the Dune" (tracking for No. 15), OneRepublic's "Native" (No. 17), Hanson's "Anthem" (No. 23) and Sigur Ros' "Kveikur" (No. 24).
Even if West says he doesn't care about album sales, the controversial rapper has reason to celebrate Down Under as well. "Yeezus" rose to No. 1 on Australia's album charts after a miscount originally placed it at No. 2, according to Billboard. The album also debuted atop the U.K.'s chart.
CORRECTION: A previous version of this article used data that only reflected 50 percent of reported sales data. The story has since been updated. HuffPost Entertainment will post West's first-week sales once they're officially available through Soundscan and Billboard.
BEFORE YOU GO
PHOTO GALLERY
Kim Kardashian and Kanye West