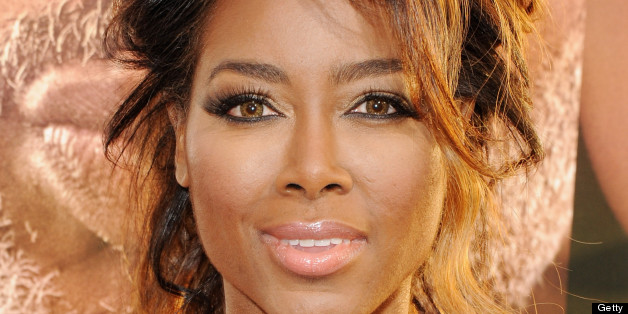 As previously reported, last week a Fulton County judge issued a decision to evict Kenya Moore from her six-bedroom, six-bathroom Georgia mansion, due to claims of the reality star defaulting on unspecified terms of her lease including paying rent.
However, contrary to various reports citing that the 42-year-old failed to make an appearance during her June 18 court hearing, a source has revealed to the Huffington Post that the 42-year-old was not evicted and is a victim of her landlord's ongoing legal battle with her ex-husband:
The eviction lawsuit has nothing to do with Kenya at all. Kenya has found herself renting from a divorced couple who are in the middle of a bitter battle over support payments. Basically, the wife/landlord wants Kenya to move out of the house immediately because, as you can see from the attached document, she has a court date coming up with her ex-husband where she will be asking for additional support for their daughter and other financial relief.

However, the husband is contending that his ex is making a lot of money by having Kenya as a tenant and he does not want to pay her any additional support. The wife wants Kenya out before her court date so she can say she is no longer receiving the big rent checks.
The source also added that the former Miss USA never received notification of last week's court date and has paid her $3,999 monthly rent in full through June. Moore's attorney, Marcia Fuller, attended a hearing on June 20 to set a new court date for July 9.

Check out court documents of Conya Dillon's petition for modification of child support below.
Dillon v Dillon-Hp1 by HuffPost Politics
Dillon v Dillon-Hp2 by HuffPost Politics
Dillon v Dillon-Hp3 by HuffPost Politics
PHOTOS:
PHOTO GALLERY
Kenya Moore Photos
BEFORE YOU GO
PHOTO GALLERY
Kenya Moore Photos