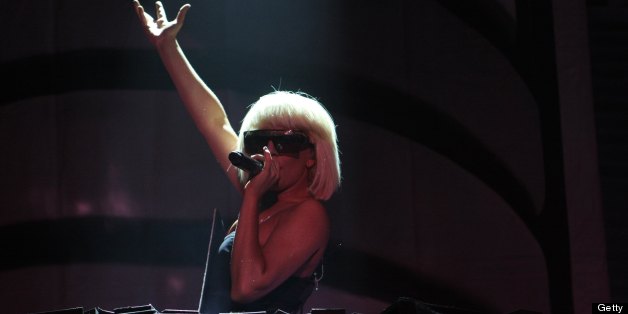 After a bit of radio silence on Twitter, Lady Gaga returned to the social media platform with messages urging the United States Supreme Court to overturn the Defense Of Marriage Act (DOMA).
Let's go DOMA. Supreme Court lets make history & stand for MARRIAGE EQUALITY! #GetItDoneThisWeek #TheWhole WorldIsWatching

— Lady Gaga (@ladygaga) June 24, 2013
Gaga, no stranger to supporting the lesbian, gay, bisexual and transgender (LGBT) community, used the hashtags #GetItDoneThisWeek, #DoItNow, #WeAreEqual and more to express that the queer community deserves equality.
Time to bring DOMA to the floor. #DoItNow #WeAreEqual #WeAreHuman #WeAreValuableToSociety

— Lady Gaga (@ladygaga) June 24, 2013
The Supreme Court is expected to give its decisions on the Defense of Marriage Act and Proposition 8 on Wednesday, June 26 at 10am ET -- decisions which are sure to be historic no matter how the justices rule.
Lady Gaga's upcoming album, ARTPOP, is expected to be released later this year. The "Born This Way" singer injured her hip earlier this year, which resulted in the cancellation of the remaining dates of her Born This Way Ball Tour.
View the rest of Lady Gaga's tweets below.
Overturn The Defense Of Marriage Act (DOMA) today. It is unconstitutional. Or will the Supreme Court continue to discriminate against LGBTs

— Lady Gaga (@ladygaga) June 25, 2013
Who will be our Abe Lincoln today? Who will make the choice of FREEDOM FOR ALL. #SCOTUS

— Lady Gaga (@ladygaga) June 25, 2013
BEFORE YOU GO
PHOTO GALLERY
11 Of Lady Gaga's Queerest Moments