Chicago wasn't the only city celebrating the Blackhawks win over the Boston Bruins. Toronto also seemed quite pleased with the result of the 2013 Stanley Cup Final.
The morning after the Blackhawks hoisted the Stanley Cup, the front cover of the Toronto Sun proclaimed "Thanks!" in a public note to the victorious city. Apparently, fans in Toronto were still pretty sore about the Bruins' thrilling rally in Game 7 of the Eastern Conference quarterfinals.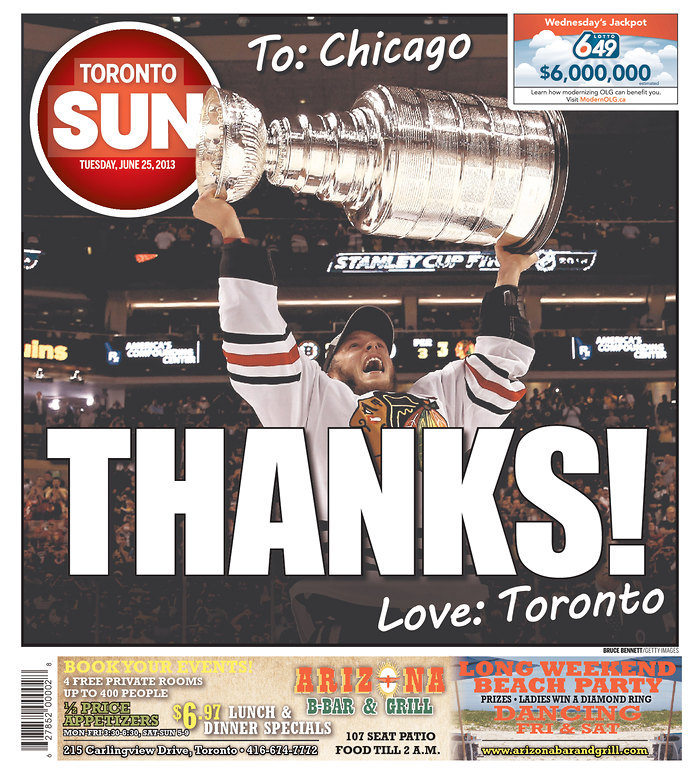 In that Game 7 between the Leafs and the Bruins, Boston trailed by three goals during the third period and by two goals with less than 90 seconds remaining. Late scores from Patrice Bergeron and Milan Lucic forced an improbable overtime period. The Bruins advanced with another strike from Bergeron.
To the apparent delight of the editors at the Toronto Sun, the Bruins were the ones on the wrong end of a historic late rally in Game 6 of the Stanley Cup Final. Leading 3-1 in the third period and 3-2 with just 90 seconds remaining, the Bruins seemed set to force a Game 7 before the Blackhawks reeled off two goals in a 17-second span.
Although the Toronto Maple Leafs' official Twitter account also sent a note of congratulations to the Blackhawks it didn't seem to be quite as gleeful.
Congrats to the @NHLBlackhawks on winning the Stanley Cup

— Toronto Maple Leafs (@MapleLeafs) June 25, 2013
BEFORE YOU GO
PHOTO GALLERY
PHOTOS: 2013 Stanley Cup Final