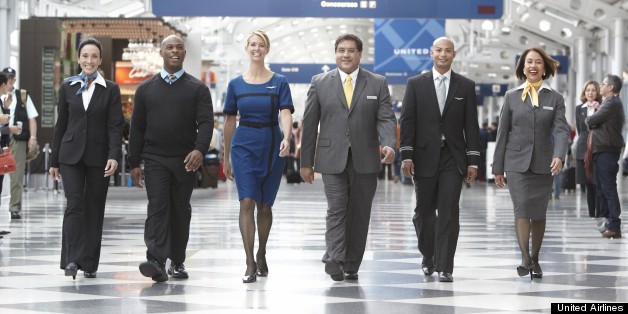 The next time you fly United Airlines, you might notice that the flight attendants, customer service agents, and technical service workers look a little bit different. On Tuesday, more than 64,000 United employees will debut entirely redesigned garments. And for the first time, the uniforms -- characterized by "accents of blue, gold, silver and gray" -- are similarly styled throughout the entire company.
"The new uniforms project a contemporary, sophisticated look that reflects the modern airline we're building," said Jeff Foland, United's executive vice president – marketing, technology and strategy in a press release. "With significant feedback from our uniformed co-workers, we've designed pieces that are professional, stylish and functional."
United pilots will be given a makeover as well -- but that won't come until later in the year. The uniform will maintain the "traditional midnight blue color" but be tied into the line with "gold stripes and accents," according to the airline.
The release goes into detailed description of the new designs:
Flight Attendants: The uniform includes a core wardrobe of black trousers, skirts, sweaters, vests and blazers with two rows of silver braid on the sleeves. Female flight attendants will also wear sweaters, vests, short sleeve jackets and two styles of dresses, including a signature blue dress with a black stripe detail. Outerwear for male and female flight attendants includes a black all-season coat and an optional gray double-breasted wool coat.

Customer Service Agents: The uniform includes a wardrobe of black blazers, trousers, sweaters, vests and skirts. Agents will also wear colored shirts and distinctive neckwear that vary depending on their job responsibilities.

Ramp, Cargo and Technical Operations: The uniform offers flexibility, comfort and durability for year round comfort. Employees will wear work shirts, polo shirts and T-shirts made with breathable and flexible fabric. The pants, shorts and coveralls for both men and women feature a soft, brushed fabric. Outerwear for ramp, cargo and technical operations workers includes a three-piece system consisting of a zip-up fleece-lined vest, jacket and waterproof outer shell. The uniform also includes waterproof wind pants, hooded sweatshirts, baseball caps and knit caps.
United is the latest airline to get a uniform overall. In January, American Airlines announced that designers KAUFMANFRANCO would create their new uniforms (to go along with their new logo and all). Virgin America teamed up with Banana Republic last year to get a new look.
For a look back at flight attendant attire over the years, check out the slideshow below.
BEFORE YOU GO
PHOTO GALLERY
A History Of Flight Attendant Uniforms