 The Supreme Court hangs its voting right act ruling on Census survey results. John Kasich is in better shape in Ohio. And we've got your election night scatter plots right here. This is the HuffPost Pollster update for Tuesday, June 25, 2013.
SHELBY OPINION RELIES ON CENSUS SURVEY - In a 5 to 4 decision striking down Section 4 of the Voting Rights Act on Tuesday, the Supreme Court relied on data -- specifically Census survey data -- to support its ruling. "The conditions that originally justified" special federal oversight in nine mostly southern states and portions of seven more, wrote Chief Justice John Roberts, "no longer characterize voting in the covered jurisdictions...Census Bureau data indicate that African-American voter turnout has come to exceed white voter turnout in five of the six States originally covered by §5, with a gap in the sixth State of less than one half of one percent. See Dept. of Commerce, Census Bureau, Reported Voting and Registration, by Sex, Race and Hispanic Origin, for States (Nov. 2012)." Robert's majority opinion also included a table, "compiled from the Senate and House Reports," that compared voter registration statistics in the six originally covered states, using "2004 figures...from the Census Bureau." [Supreme Court]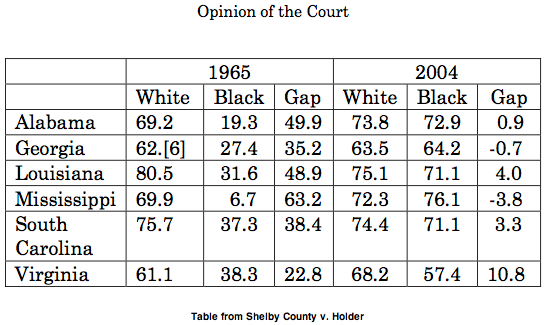 Too strong a claim? - George Mason University political scientist Michael McDonald. who studies voter turnout data, told HuffPollster on Tuesday that he agreed that African American turnout has increased and is "probably about equal" to white turnout "as far as we know from the evidence we have." That evidence includes not just the Census Current Population Survey (CPS) on voting that the Roberts opinion quotes, but also McDonald's analyses of "aggregate election data" that show black turnout to be "on par" with whites. But McDonald quibbled with the claim that that African-American voter turnout exceeded white voter turnout in 2012 in five of the six originally covered states. "The most important thing is that [CPS] is a survey," McDonald explained, and as such, "is susceptible to all sorts of survey issues" including sampling error and non-response. "The right thing to say," he concluded, is that black and white turnout is now "about equal, because it's survey data...They could have made the point without having to be more sensational." [See McDonald on 2012 turnout].
David Wasserman: The ruling won't affect the House Wasserman: "[W]hile civil rights advocates should be concerned about the case's implications for matters such as voter ID laws, early voting hours, and local polling locations, don't look for immediate practical political implications in the House. There are three reasons the effective end of the Justice Department's preclearance regime won't bring about a wholesale redraw of southern congressional districts in time for 2014, 2022, or beyond." Those reasons, he says: 1) the DOJ under Obama made little use of Section 5, 2) Southern Republicans won't want to dismantle minority-majority districts, which largely benefit them, and 3) the VRA's Section 2, which prohibits "packing" or "cracking" minority voters, remains in place. [Cook Political]
Nate Silver: Effects of gerrymandering are overstated - Silver: "The problem is that most people are putting too much weight on gerrymandering and not enough on geography. There's no doubt that the tendency of racial minorities to be concentrated in a group of overwhelmingly Democratic districts hurts the Democratic Party as it seeks control of the United States House....But minority populations, especially African-Americans, tend to be highly concentrated in certain geographic areas. In the North, this is generally in major cities; in the South, it may be in both urban areas and some agricultural regions (with minority populations generally low in the suburbs)...In this context, the legal requirements of the Voting Rights Act might also have a relatively minor effect on the number of majority-minority districts, most of which arise as a result of the geographic distribution of minority voters." [NYT]
Polling roundup - Pew Research "Fact Tank" blogger Drew Desilver: There's been relatively little polling specifically on the Voting Rights Act, but what there is shows a closely divided public. In a recent New York Times/CBS News poll, 49% of Americans said the act is necessary to ensure that blacks can vote, but 44% said it was not necessary. Blacks (75%) and Democrats (59%) were far more likely to say the act was still needed than whites (46%), independents (48%) or Republicans (36%)...Andrew Kohut, founding director of the Pew Research Center, wrote in a recent Wall Street Journal op-ed piece that few Americans of any race reported having problems or difficulties in voting this past November: 4% of whites and 2% of blacks, in a Pew Research poll taken just after the election. [Pew Research]
JOHN KASICH GETS RECORD HIGH APPROVAL RATING - Quinnipiac: "Buoyed by voter perception that the Ohio economy is improving, Gov. John Kasich gets a 54 - 32 percent job approval**, inching up to his highest score ever, according to a Quinnipiac University poll released today. With the higher approval rating, Gov. Kasich stretches his lead to 47 - 33 over Cuyahoga County Executive Ed Fitzgerald, a possible Democratic challenger in the 2014 governor's race, the independent Quinnipiac (KWIN-uh-pe-ack) University poll finds. The governor also has a 47 - 36 percent reelection lead over another possible Democratic challenger, U.S. Consumer Financial Protection Bureau Director Richard Cordray. Voters say 49 - 37 percent that Kasich deserves to be reelected." [Quinnipiac]
COHN: CLIMATE CHANGE INITIATIVE WON'T HURT DEMS -
The New Republic's Nate Cohn thinks Democrats "shouldn't fear" the climate change initiative announced by President Obama on Tuesday: "Climate change isn't a great issue for Democrats because voters just aren't very concerned about it. According to Pew Research, climate change was the lowest priority issue for this year...But the electoral consequences of Obama's climate policy will probably be overstated. That's not because climate policy doesn't have big electoral consequences, but mainly because Democrats have already incurred the huge, if localized costs of pursuing regulations on carbon emissions...so far, the public isn't reflexively opposed to policies to reduce carbon emissions. The same Pew Research survey found that 62 percent favored emissions limits on power plants to address climate change." [TNR]
LIVE MASSACHUSETTS ELECTION RESULTS - The Huffington Post will have live, county-by-county election results Tuesday night for the special election for U.S. Senate in Massachusetts, starting shortly after the polls close at 8:00 p.m. Eastern Time. Our data feature will include scatter plots showing comparing the Markey-Gomez margin to the two most recent Senate contests in Massachusetts pitting Scott Brown and Elizabeth Warren in 2012 and Brown and Martha Coakely in 2010. [HuffPost Election Results]
POLLSTER UPDATE VIA EMAIL! - You can receive this daily update every weekday via email! Just enter your email address in the box on the upper right corner of this page, and click "sign up." That's all there is to it (and you can unsubscribe anytime). The Pollster Updates will continue to publish online, but if you'd prefer the convenience of email, it's just one click away.
TUESDAY'S 'OUTLIERS' - Links to more news at the intersection of polling, politics and political data:
-Most Americans wrongly describe the immigration rate as growing over the last ten years. [USA Today]
-Americans' confidence in the U.S. medical system dropped from 41 to 35 percent since last year. [Gallup]
-Brian Schweitzer will face a tough reelection fight if challenged by a "top tier" Republican. [PPP]
-Seth Masket sees more evidence of "symbolic racism" in the South that the rest of the U.S. [Pacific Standard]
-Ipsos pollster Darrell Bricker explains why political polls miss and pitches transparency. [YouTube]
-Jason Linkins slays the God the Church Of The All-Powerful Bully Pulpit. [HuffPost]
-Jim Rutenberg shares more details behind his story on Obama's data wizards going corporate. [NYTimes]
-Harry Enten questions whether the Republican brand is damaged. [Guardian]
-The Marketing Research Association reports that New Hampshire may be on path to repairing its "push poll" law. [MRA]
-The Bakersfield Californian calls for licensing campaign consultants. [Californian, via @hfienberg]
-Three quarters of young Americans still read at least one book in print a year and most consider library borrowing important. [Pew Internet]
-Two thirds of Washingtonians say Redskins shouldn't change their name. [WaPost]