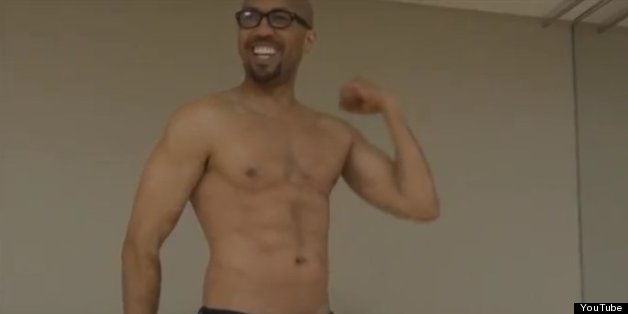 He's gone from reporting the day's most sizzling headlines to, frankly, inspiring them.
Detroit City Council President/abdominal enthusiast Charles Pugh made history when he became the city's first openly gay City Council member in 2009. Just in the past 48 hours, his bizarre absence from City Hall, coupled with troubling allegations from a Detroit mother, an unexplained medical leave and deleted social accounts have raised eyebrows all over the city... along with one burning question.

Where's Charles Pugh?
It's like everybody's already forgotten about Jimmy Hoffa.
While we don't have an answer for you readers, we've compiled some of Pugh's biggest headlines over the past 48 hours, not to mention, the last four years of his stint in local politics. Brace yourselves... this is one rollercoaster of a ride. Stay tuned with us -- we'll update immediately with any breaking news concerning his whereabouts.
And if you see Pugh around Detroit, make sure to tweet @HuffPostDetroit.
October 2009: Detroit's first openly-gay politician lands a feature in TIME Magazine while he campaigns for City Council. But reports also surface that Pugh is underwater on his Brush Park condo and facing foreclosure.
November 2009: Becomes the first openly gay member of Detroit City Council and the most popular vote-getter in the election, making Pugh president of the city's elected body. Five out of nine members, including Pugh, are first-time councilmembers.

February 2010: According to news reports, Pugh crashes his city-owned vehicle on a Friday night at the intersection of I-75 and Mack Avenue in Detroit. Pugh said he swerved to avoid hitting another vehicle. Despite having two flat tires, damaging the passenger side of his Crown Vic and denting the front bumper, Pugh drives home, and doesn't call the police for three days. He denied any suggestion that he was drinking and said he didn't want to wait for the police on a Friday night. "If we violated a policy it was unbeknownst to me."
January 2011: Even though his office had an annual budget of $900,000, being a City Council president could get expensive. But Pugh's 501(c)4 "Pugh & You: Detroit Move Forward fund" was quickly (and unfavorably) compared to ex-Mayor Kwame Kilpatrick's civic "slush" fund. Pugh said it only covered travel expenses, hiring a part-time staffer, legal fees and charitable donations. By the time he pulled the plug on Pugh & You, he said the fund had barely exceeded $10,000, and the money had already been used. Plus, as he told The Detroit News, the whole thing had become "a freaking headache."

January 2012: After facing foreclosure for a third time, Pugh announces he's walking away from his $385,000 Brush Park condo. According to several local news reports, the official first defaulted on a $315,000 mortgage in 2007 and took out two mortgages to save it. Reports also say he was served 11 eviction notices before buying the condo, when he was a tenant at then-named Trolley Plaza Apartments.

March 2012: The previously-pudgy Pugh emerges with rippling abs and a new healthy mantra for Detroiters, releasing a new workout video on YouTube that showcased his svelte bod. The triumphant segment follows months of Pugh-themed workout Tweets and Facebook updates chronicling his weight-loss plan, but it drew criticism from some who thought he should be concentrating on city politics rather than self-promotion.
April 2012: Pugh reportedly writes a letter to Detroit Free Press editors saying he will no longer work with former reporter Steve Neavling after the two have a verbal argument. Neavling says Pugh became angry at Neavling for publishing a comment he intended to be "off the record," although it was made at a public City Council meeting. Neavling is fired shortly thereafter and starts the Motor City Muckraker blog.
June 2012: Charles Pugh gets in a well-publicized Twitter fight with an Automotive News intern who questions Pugh's leadership abilities. After sparring with the young man online, Pugh then tweets an Automotive News editor to complain about the intern's comments. The story makes national headlines.
October 2012: After losing his Brush Park condo to foreclosure, it re-enters the market with a new interior design and an asking price of $2,050/mo.
February 2013: Pugh announces that he won't run for mayor of Detroit, after months of speculation. Instead, the former TV anchor told Fox 2 News he sought a return to a newsroom. "I think that we've been really successful on the City Council," he told Fox 2 News in an interview. "But I think that elected public service has a shelf life. And for me, it's going to be four years."
Thursday, June 20:
Noted Michigan pollster and consultant Joe DiSano publishes this Tweet.
If you are having a bad day remind yourself that you aren't Charles Pugh. #EthicalProblems #Resignation?

— Joe DiSano (@joedisano) June 20, 2013
Monday, June 24:
Detroit Free Press City Hall Reporter Matt Helms wonders where Pugh's active social media accounts have gone.
Anyone know why Charles Pugh deleted his Twitter and Facebook accounts? #Detroit

— Matt Helms (@MattHelms) June 24, 2013
Tuesday, June 25, 10:30AM: City Council members wonder aloud at Pugh's whereabouts from the weekly meeting, his second consecutive absence. Councilmember Saunteel Jenkins advocates discontinuing the three-person City Council subcommittees. Given Pugh's unexplained absences, along with the resignations of President Pro Tem Gary Brown and Councilman Kwame Kenyatta, many subcommittees will only have two members.
Tuesday, June 25, 1 PM: Charles Pugh penned a two-line note to Emergency Manager Kevyn Orr explaining his absence from City Council. "Consider this memorandum a formal communication regarding my time away from the City Council table. I am beginning a brief medical leave of absence for approximately 3-4 weeks effective today, June 25, 2013. All Council matters shall be referred to the President Pro-Tempore, of which my staff will report to. Thank you!"

Tuesday afternoon: Bill Nowling, spokesman for Emergency Manager Kevyn Orr, reports that the EM has given Pugh a deadline of 5 p.m. on Wednesday to show up to work, or forego his pay and resign.
Wednesday, 12:30PM: WXYZ publishes quotes from an exclusive interview with an anonymous Detroit mother who says she is concerned by "secret gifts" Pugh gave her 18-year-old son, one of a group of high-school students he said he mentored. While both Pugh and the son reportedly denied that any misconduct occurred, Pugh was overheard calling the mother via speakerphone during the interview. "Will you please not do the interview?" he reportedly asked. "Because I won't be able to work in this town, I won't be able to do anything."
Wednesday, June 26, 2:45PM:
MLive Detroit Reporter Eric Lacy Tweets info from
a conversation he had with Pugh's personal trainer
, Christian Beatty Wallace, in which Wallace said he wasn't aware Pugh had a medical problem.
Trainer told me only thing Charles Pugh told him lately about health at workouts was that he put on a few pounds during the winter months.

— Eric Lacy (@EricLacy) June 26, 2013
Wednesday, June 26, 3:45PM: The Detroit News reports that an anonymous parent (unclear whether it's the same parent referenced above) filed a complaint with Detroit Public Schools. According to the News, the mother approached officials at the Frederick Douglass Academy for Young Men, where Pugh reportedly mentored her son, in early June. Principal Berry Greer told the News that Pugh "hasn't been around in a while."
Wednesday, June 26, 4:45 PM:
WDIV aired a press conference with an unnamed Metro Detroit attorney who is representing the mother and teenage boy. The attorney says that Pugh had an
"inappropriate relationship" with the young man
while he was 17 years old and a senior at the Frederick Douglass Academy. A lawsuit appears to be forthcoming.
Wednesday, June 26, 5:00 PM:
Orr's deadline for Pugh to either return to work or resign from office comes and goes without a word from the possibly soon-to-be-ex-City-Council-member.
Wednesday, June 26, 5:45 PM:
The end appears to be drawing near for Pugh's tumultuous tenure as City Council President.
Emergency manager Kevyn Orr drafting order to stop City Council President Charles Pugh's salary.

— Detroit Free Press (@freep) June 26, 2013
Click through the slideshow below to read some of the most amazed, upset, and hilarious Tweets about town concerning the latest Charles Pugh controversies.

BEFORE YOU GO
PHOTO GALLERY
Detroit Reacts To AWOL #CharlesPugh