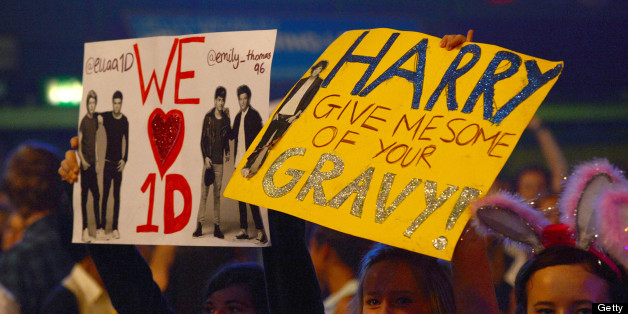 With "One Direction world" stores opening across the globe (not to mention their new line of back-to-school supplies and oral hygiene products), it's never been easier for young fans to spend money on super cool merch from their favorite boy band.
Then there's pre-ordering the new album, along with that special charity single, and, of course, snagging a ticket to a concert in their "Take Me Home" tour. And what about heading to more than one city to see them perform?
While Louis, Niall, Zayn, Liam and Harry's music is parent-friendly (mostly), a One Direction obsession may still be mom and dad's worst nightmare in terms of expenses. In fact, the website moneysupermarket.com has broken down exactly how much it costs to be a casual, mid-level and ultimate 1D fan to prove what we've all suspected: Being a Directioner is a really expensive hobby.
Check out their infographic, below, and tell us: What type of fan are you? How much money do you spend on band merch per year? Sound off in the comments or tweet @HuffPostTeen!
Note: these calculations are in pounds.
by MoneySupermarketMoneySupermarket Credit Cards
BEFORE YOU GO
PHOTO GALLERY
Best Moments From 'Take Me Home' Tour