By MARK SHERMAN, THE ASSOCIATED PRESS
WASHINGTON — In a major victory for gay rights, the Supreme Court on Wednesday struck down a provision of a federal law denying federal benefits to married gay couples and cleared the way for the resumption of same-sex marriage in California.
The justices issued two 5-4 rulings in their final session of the term. One decision wiped away part of a federal anti-gay marriage law that has kept legally married same-sex couples from receiving tax, health and pension benefits.
President Barack Obama praised the court's ruling on the federal marriage act, which he said "was discrimination enshrined in law."
"It treated loving, committed gay and lesbian couples as a separate and lesser class of people," Obama said in a statement. "The Supreme Court has righted that wrong, and our country is better off for it."
The other high court decision was a technical legal ruling that said nothing at all about same-sex marriage, but left in place a trial court's declaration that California's Proposition 8 is unconstitutional. That outcome probably will allow state officials to order the resumption of same-sex weddings in the nation's most populous state in about a month.
Obama telephoned his congratulations to the plaintiffs in the California case from Air Force One en route to Africa.
In a sign that neither victory was complete, the high court said nothing about the validity of gay marriage bans in California and roughly three dozen other states. And a separate provision of the federal marriage law that allows a state to not recognize a same-sex union from elsewhere remains in place.
The ruling in that case was not along ideological lines. Chief Justice John Roberts wrote the majority opinion, joined by Justices Ruth Bader Ginsburg, Stephen Breyer, Elena Kagan and Antonin Scalia.
"We have no authority to decide this case on the merits, and neither did the 9th Circuit," Roberts said, referring to the federal appeals court that also struck down Proposition 8.
In the case involving the federal Defense of Marriage Act, Justice Anthony Kennedy wrote the majority opinion, joined by the court's liberal justices.
"Under DOMA, same-sex married couples have their lives burdened, by reason of government decree, in visible and public ways," Kennedy said.
"DOMA's principal effect is to identify a subset of state-sanctioned marriages and make them unequal," he said.
Some in the crowd outside the court hugged and others jumped up and down just after 10 a.m. EDT Wednesday when the DOMA decision was announced. Many people were on their cell phones monitoring Twitter, news sites and blogs for word of the decision. And there were cheers as runners came down the steps with the decision in hand and turned them over to reporters who quickly flipped through the decisions.
Chants of "Thank you" and "USA" came from the crowd as plaintiffs in the cases descended the court's marbled steps. Most of those in the crowd appeared to support gay marriage, although there was at least one man who held a sign promoting marriage as between a man and a woman.
Kennedy was joined in the DOMA decision by the court's four liberal justices.
Chief Justice John Roberts, Justices Samuel Alito and Clarence Thomas, and Scalia dissented.
Same-sex marriage has been adopted by 12 states and the District of Columbia. Another 18,000 couples were married in California during a brief period when same-sex unions were legal there.
The outcome is clear for people who were married and live in states that allow same-sex marriage. They now are eligible for federal benefits.
The picture is more complicated for same-sex couples who traveled to another state to get married, or who have moved from a gay marriage state since being wed.
Their eligibility depends on the benefits they are seeking. For instance, immigration law focuses on where people were married, not where they live. But eligibility for Social Security survivor benefits basically depends on where a couple is living when a spouse dies.
The rulings came 10 years to the day after the court's Lawrence v. Texas decision that struck down state bans on gay sex. In his dissent at the time, Scalia predicted the ruling would lead to same-sex marriage
___
Associated Press writers Connie Cass, Jessica Gresko and Bethan McKernan contributed to this report. McKernan reported from New York.
BEFORE YOU GO
PHOTO GALLERY
SCOTUS Decisions On Prop 8, Defense Of Marriage Act
06/26/2013 7:32 PM EDT
Catholic Archbishop: DOMA, Prop 8 Rulings 'Hurt Us All'
Some Catholic leaders are asking parishioners to consider the judgment of a higher power, not the nation's highest court.
Detroit Archbishop Allen H. Vigneron issued a statement criticizing the Supreme Court's decision in the DOMA and Prop 8 cases, saying that attempts to redefine marriage "hurt us all."
The well-being of our society, our nation, and our families is intimately linked to the institution of marriage. These decisions by the United States Supreme Court will make significantly more difficult our work of upholding the truth that marriage is a lifelong covenant between one man and one woman. Such decisions, made by any civic authority, do not serve the common good.

Catholics and millions of our fellow citizens will continue to make the case, respectfully yet vigorously, that marriage cannot be redefined, and that attempts to do so hurt us all.
Read more here.
06/26/2013 5:58 PM EDT
Stonewall Inn Crowd Celebrates DOMA, Vows To Keep Fighting
The Huffington Post's Lila Shapiro reports:
NEW YORK -- On Wednesday, the Stonewall Inn opened earlier than usual. At 10 a.m., the day the U.S. Supreme Court handed the gay rights movement a landmark victory, the historic bar was dimly lit, strung with rainbow flags, and filled with revelers toasting each other and pledging their determination to keep fighting.
Read the whole post here.
06/26/2013 4:16 PM EDT
Washington National Cathedral Rings Bells Celebrating Gay Marriage Rulings
The Washington National Cathedral rang bells at noon today to celebrate the Supreme Court rulings on the Defense Of Marriage Act and Prop 8.
Rev. Gary Hall, Dean of the Cathedral, released a statement soon after the rulings were announced:
"We are ringing our bells at the Cathedral to celebrate the extension of federal marriage equality to all the same-sex couples modeling God's love in lifelong covenants," he said. "Our prayers for continued happiness are with them and with all couples who will be joined in matrimony in the years to come, whether at Washington National Cathedral or elsewhere."
Click here to hear the bells.
06/26/2013 4:12 PM EDT
Matthew Shepard's Mom Responds To DOMA Ruling
Matthew Shepard's mom, Judy, said she wished her son had lived to see Wednesday's Supreme Court ruling striking down DOMA.
"I wish he'd been here to see it," she said. "This case warms my heart, to think that his dream is still coming true."
Click here to read more.
06/26/2013 3:45 PM EDT
Marriage Equality Supporters Pictured Reacting To SCOTUS Rulings From Stonewall Inn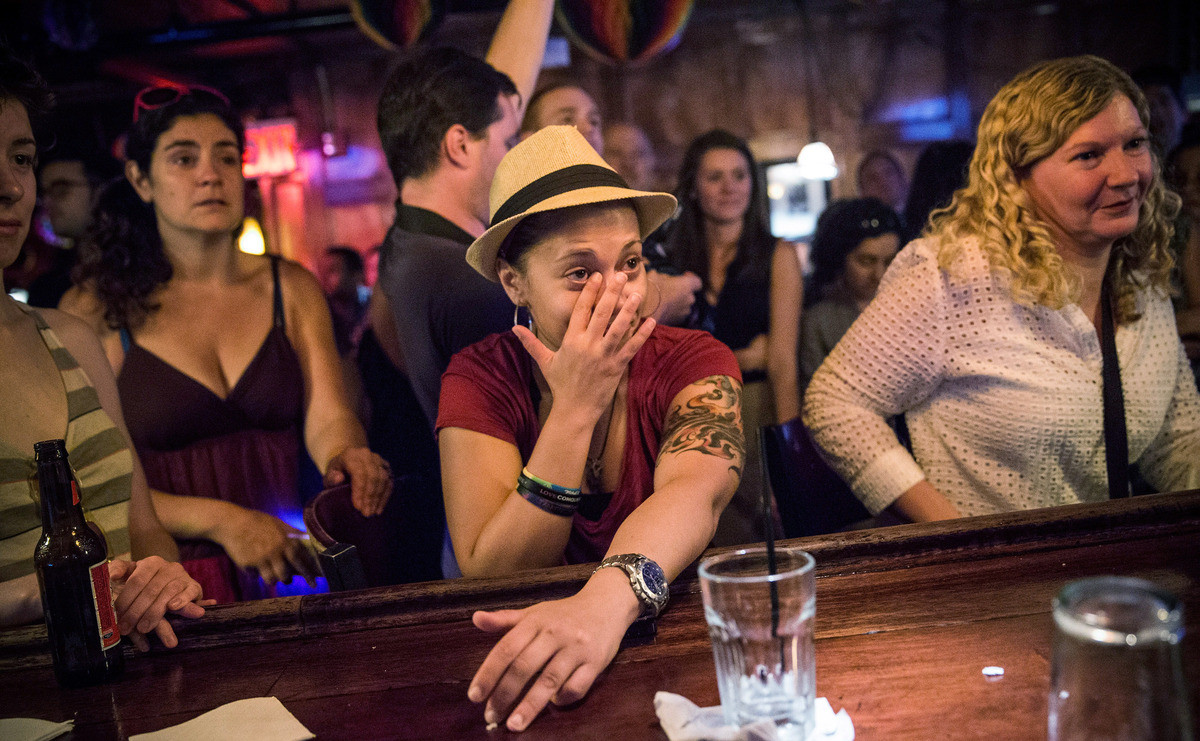 (Photo by Andrew Burton/Getty Images)
06/26/2013 3:31 PM EDT
Celebrating From Stonewall Inn, Iconic Location Credited For The Start Of The LGBT Movement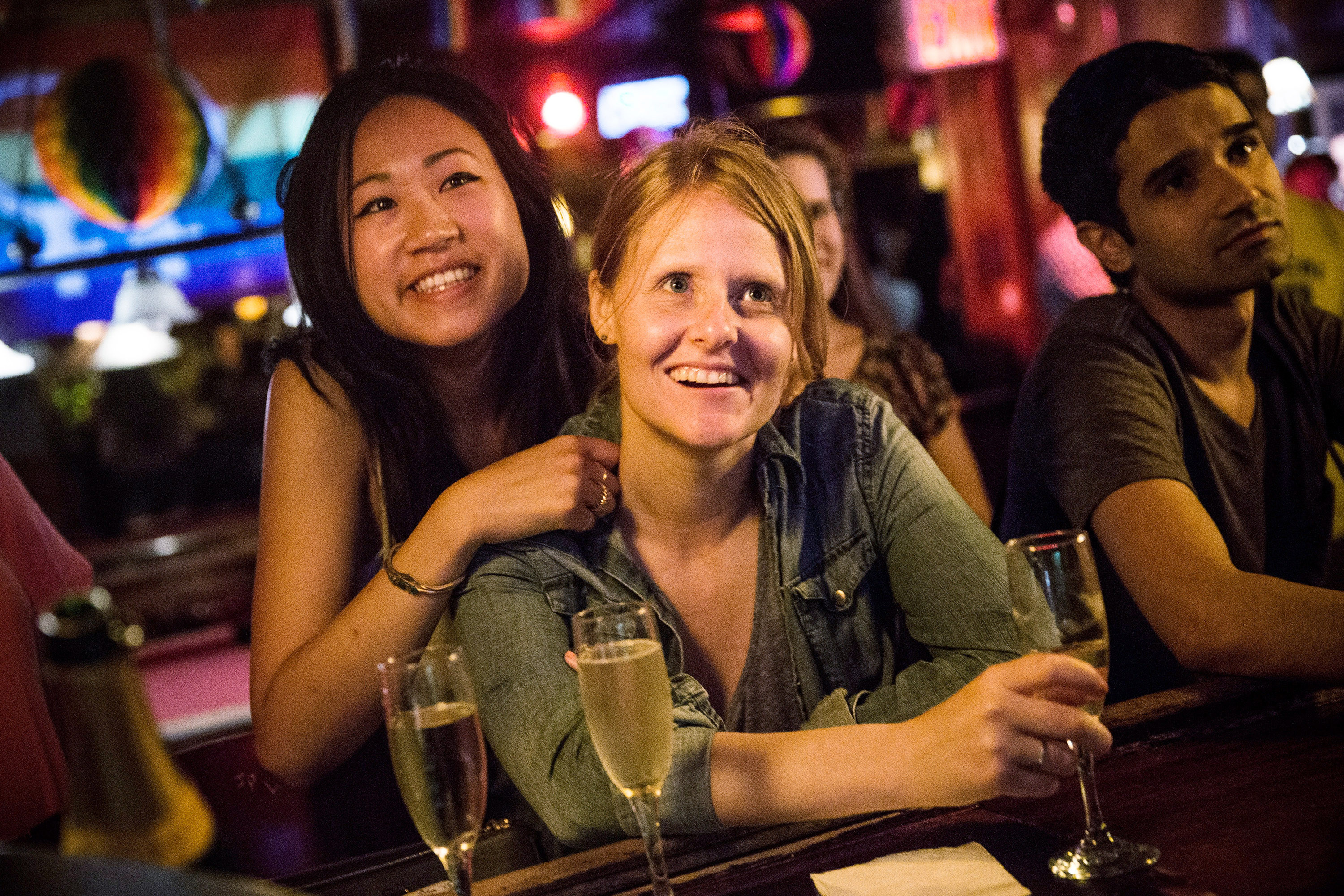 (Photo by Andrew Burton/Getty Images)
06/26/2013 3:20 PM EDT
Couple Kiss, Celebrate SCOTUS Decisions While Holding Their Soon-To-Be Adopted Children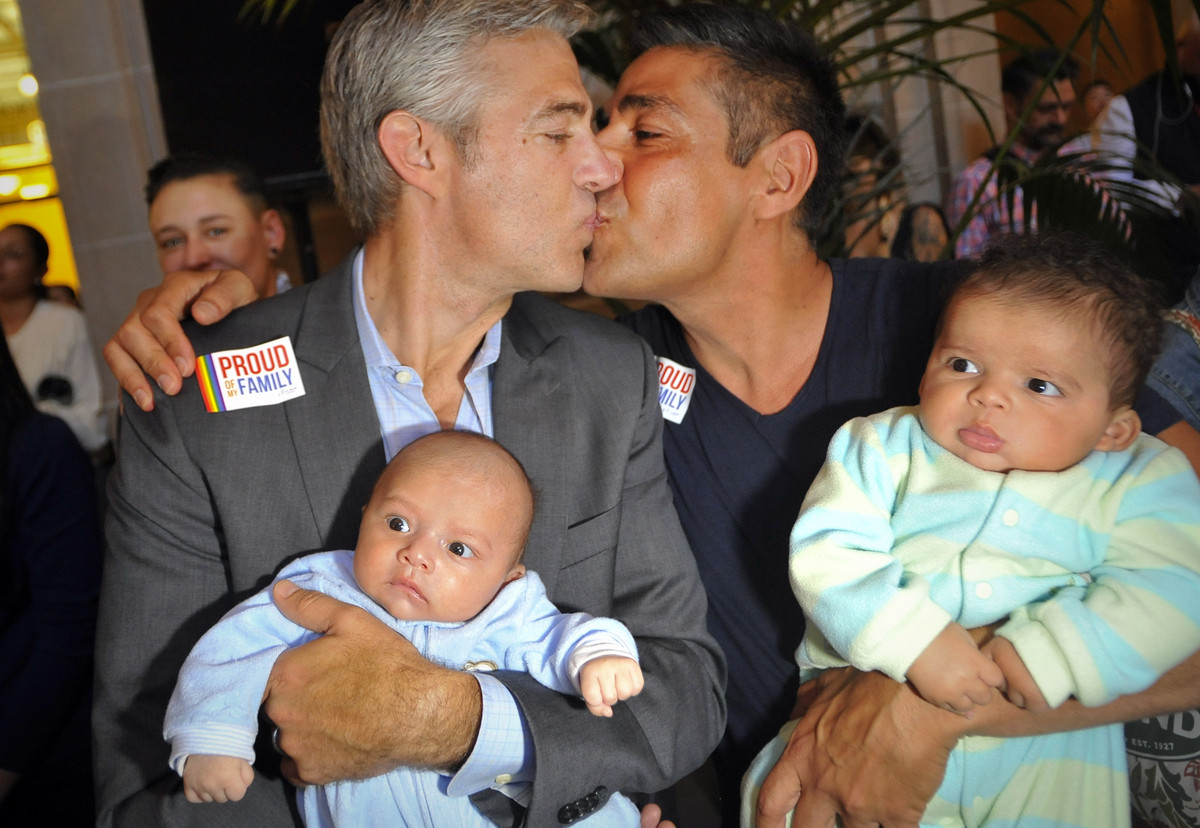 (Photo by Josh Edelson/AFP/Getty Images)
06/26/2013 3:09 PM EDT
DOMA Decision Helps LGBT Couples On Immigration
HuffPost's Elise Foley reports:
Judy Rickard, who is 65, and Karin Bogliolo, who is 72, have been together for eight years, legal domestic partners for five and legally married for two. They're one of an estimated 28,500 binational same-sex couples who have been excluded from immigration benefits because of DOMA, which disallowed the federal government from recognizing their marriages. The ruling doesn't entirely fix the problem -- couples must be married rather than partners, and must travel to a state that allows same-sex marriage if they don't live in one -- but it's still a major victory for LGBT rights.
Read more about Rickard and Bogliolo and more couples helped by the DOMA decision here.
06/26/2013 3:07 PM EDT
Food Network Host Announces Engagement To Partner Of 20 Years
Ted Allen, host of the hit Food Network show "Chopped" and his partner of 20 years, interior designer Barry Rice, were "over the moon" when they read on Wednesday morning that the court had ruled the Defense of Marriage Act unconstitutional.
Their day had come. They were getting married. Allen quickly announced their engagement on Twitter and Facebook. He said that the notices garnered the most enthusiastic response of any he'd ever posted; his Facebook status received 417 comments in the first 40 minutes.
Fellow food competition host Tom Colicchio sent his enthusiastic congratulations to the couple via Twitter.
Allen said that he and Rice would soon begin preparing for their wedding, likely a quiet affair in New York, but for now they're content to revel in the good news.
"I don't think that by any means our movement is finished, that our work is done, but this was an enormous hurdle," he said. "DOMA has been Chopped, sir."
-- Joe Satran
06/26/2013 3:01 PM EDT
'Make Them Hear You'
The Gay Men's Chorus of Washington gathered outside the Supreme Court Tuesday, singing "Make Them Hear You" after the Supreme Court rulings. Watch a video of the performance below: