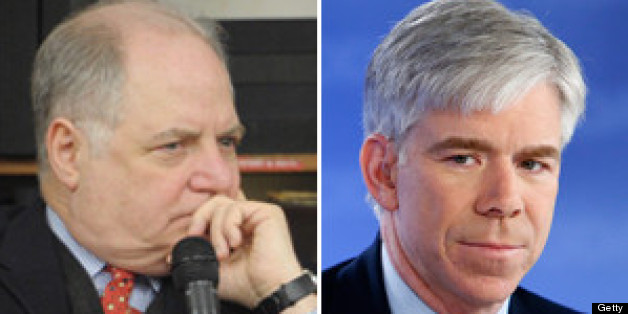 Frank Rich had quite the reaction to David Gregory and the harshly criticized question he posed to Guardian journalist Glenn Greenwald on Sunday's "Meet The Press."
Gregory was widely derided for asking Greenwald why The Guardian journalist "shouldn't be charged with a crime" for "the extent he aided and abetted" NSA leaker Edward Snowden. Greenwald responded that it was "pretty extraordinary that anybody who would call themselves a journalist would publicly muse about whether or not other journalists should be charged with felonies."
Rich piled on the criticism in New York magazine:
Is David Gregory a journalist? As a thought experiment, name one piece of news he has broken, one beat he's covered with distinction, and any memorable interviews he's conducted that were not with John McCain, Lindsey Graham, Dick Durbin, or Chuck Schumer.
Rich suggested that Gregory, who often guest hosts the "Today" show when Matt Lauer is away, get reassigned to the NBC morning show broadcast, where he can "speak truth to power by grilling Paula Deen" and dancing with Korean pop sensation, Psy.
Click over to New York to read Rich's scathing response in its entirety.
BEFORE YOU GO
PHOTO GALLERY
Savannah Guthrie Style Evolution