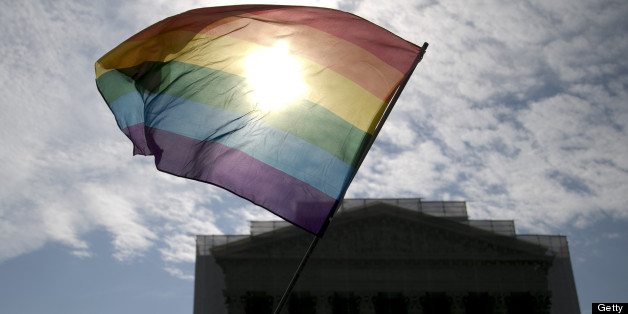 Anthony Weiner moves into the lead in New York City's mayoral primary. Or maybe he doesn't. The Supreme Court moves the law into closer alignment with public opinion. And the polls had a collectively good day in Massachusetts. This is the HuffPost Pollster update for Wednesday, June 26, 2013.
GAY MARRIAGE DECISION SET AGAINST A RISING TIDE OF PUBLIC SUPPORT - Adam Nagourney: "[A]s the Supreme Court issued its last-day-of-court rulings on Wednesday, nullifying the federal law that defined marriage as a union between a man and a woman and effectively permitting same-sex marriage in California, what was also clear was just how rapidly much of the country had moved beyond the court. Rulings that just three years ago would have loomed as polarizing and even stunning instead served to underscore and ratify vast political changes that have taken place across much of the country...And as the court surely noted in its deliberations, public sentiment on the issue of gay marriage has flipped. It is difficult to imagine a Democratic candidate for president winning the nomination in 2016 without supporting gay marriage." [NYT]
-Drew Desilver summarizes the growing support for same-sex marriage nationwide. [Pew Research]
-Harry Enten says the Supreme Court aligns with U.S. public opinion with its ruling striking down the Defense of Marriage Act. [Guardian]
-The Glover Park Group's Jason Boxt aggregates recent polling on same sex marriage. [@jboxt1]
Most Americans see gay marriage as inevitable - A Pew Research poll taken in May found that both supporters and opponents of gay marriage though that it would eventually be legalized: "[Seventy-two] percent of Americans say that recognition of same-sex marriage is "inevitable," up from 59 percent in 2004. Today, 59 percent of those who oppose legalizing gay marriage believe it nonetheless will happen, and 85 percent who support legalization think it will happen....Eighty-seven percent of Americans say they personally know someone who's gay or lesbian, up 26 points since 1993, and nearly half say one such person is a close friend or family member. Most Americans also now say they wouldn't be upset to learn their child is gay or lesbian, and they react positively or neutrally to the idea of more gays and lesbians raising children of their own." [HuffPost]
DUELING POLLS IN NYC - Two new polls on New York's upcoming Democratic primary for mayor produced two very different stories. One says former Congressman Anthony Weiner has made a "dramatic move to the front of the Democratic pack," while the other shows a "three way tie" between Weiner, former City Comptroller William Thompson and City Council Speaker Christine Quinn. First, the Wall Street Journal/NBC New York/Marist poll result: "Among registered Democrats, Mr. Weiner had 25% of the vote, compared with Ms. Quinn, who had 20%, marking her lowest level of support since polling of the race began. Trailing them were former Comptroller Bill Thompson, at 13%, Public Advocate Bill de Blasio, 10% and city Comptroller John Liu, 8%. Fewer than one in five Democrats say they are undecided." [WSJ]
Quinnipiac poll shows Thompson gain, three-way "tie" - Quinnipiac: "Former City Comptroller William Thompson moves up as City Council Speaker Christine Quinn slumps to create a three-way tie for the Democratic primary for New York City mayor, with Quinn at 19 percent, former U.S. Rep. Anthony Weiner at 17 percent and Thompson at 16 percent." The release also quotes Quinnipiac University Polling Institute director Maurice Carroll: "The demographic numbers are potentially good for Thompson, somewhat puzzling for Anthony Weiner. The only black candidate, Thompson has comparatively low recognition among black voters. Presumably his support will rise as his recognition rises. Weiner, meanwhile, does almost as well among women as Quinn." [Quinnipiac]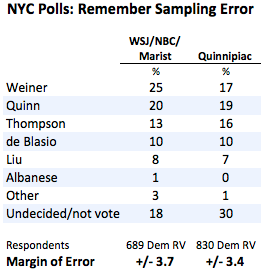 Why the difference? - The difference in the two sets of horse race results is mostly in two categories: Weiner's support is 8 percentage points higher on the Marist poll (25 vs 17 percent), while the Quinnipiac poll has a more respondents who are undecided or not voting (30 vs 18 percent). Some of this difference may simply be that Marist's interviewers pushed harder for an answer. And some of it may be random sampling error. The margins of error around Weiner's support on the Marist and Quinnipiac polls nearly overlap.
Weiner's lead in Marist poll comes from cell phone respondents - Capital New York's Azi Paybarah: "Weiner leads the Democratic pack with 30 percent among cell-phone users, according to the poll. Quinn was the next closest candidate among cell phone respondents, with 16 percent. City Comptroller John Liu was third, with 11, Public Advocate Bill de Blasio and former comptroller Bill Thompson followed with 9 and 8, respectively. Twenty percent of cell phone respondents said they were undecided...Weiner led among landline respondents, but barely, with 23 percent, followed by Quinn with 22 percent. Thompson had 15 percent, followed by de Blasio with 11 and Liu with 8." Note that both the Marist and Quinnipiac polls called samples of both landline and cell phones. [Capital New York]
POLLS GOT IT RIGHT IN MASSACHUSETTS - Collectively, the polls in Massachusetts produced an accurate forecast of the outcome of the special election for U.S. Senate. As aggregated in the Pollster chart, polls showed Democratic U.S. Rep. Ed Markey leading Republican nominee Gabriel Gomez by a 9.7 percentage point margin (50.9 to 41.2 percent). With all precincts counted, the unofficial tally reported by the Associated Press shows Markey won by a 10.0 point margin (54.8 to 44.8 percent). Most of the final surveys captured the result within the respective margins of sampling error. [HuffPost chart, election results]
But not all - Republican pollster John McLaughlin released two polls paid for by a super PAC backing Gomez that showed Markey leading by just 6 points and 3 percentage points two weeks and a week before the election respectively. A memo from McLaughlin sent to reporters claimed that Gomez had "stolen back the momentum in the special election." At the other extreme, a survey of just 312 likely voters conducted by UMass Lowell for the Boston Herald gave Markey a twenty-point lead (56 to 36 percent) a week before the election. [ McLaughlin, UMass Lowell]
A secret experiment - Harper Polling, a newly founded company that fields automated polls for Republican campaigns, disclosed on Wednesday they had they had conducted "an experiment intended to shed light on a topic of much debate among political pollsters: Who do you call?" The poll that Harper actually released, conducted two weeks before the election, gave Markey a 12-point lead (49 to 37 percent). According to the report published on Wednesday, Harper Polling's Brock McCleary says that poll sampled all registered voters but "screened out self-identified non-voters in the special election." However, Harper simultaneously conducted a second poll using identical methods and questions, but using a sample "composed of those who voted in at least two of the last four general elections including newly registered voters." **The unreleased experiment "produced very different results with Markey leading by just 1%** This test was not intended to predict the outcome of the special election. It simply reveals that who pollsters call does, in fact, matter." [Conservative Intelligence Briefing]
Surprising result - Harper's test involves a method used for many years by campaign pollsters to narrow the "universe" of registered voters to the sort of habitual voters more likely to cast ballots in a low turnout special election like the one held in Massachusetts this week. Roughly 1.2 million voters cast ballots in this year's election, compared to 2.3 million in the special election in 2010 and 3.2 million who voted in the 2012 Senate contest, so this week's turnout was certainly low. Yet according to McCleary, the narrower universe of lower turnout voters -- those that voted in 2 of the last 4 general elections (the elections held in November of 2006, 2008, 2010 and 2012) -- had a party registration breakout of 33 percent Democrat, 14 percent Republican. The broader universe of all registered voters was slightly more Republican -- 33 percent Democrat, 15 percent Republican. So the partisanship of the two universes alone did not explain the different results produced by the experiment. [@BrockMcCleary via Storify]
CAN A SURVEY'S RELIABILITY BE HURT BY ITS LENGTH? - Mike Mokrzycki, who compiled a Storify of thoughts on the issue: "Pollsters always run risks when asking a lot of questions about which respondents may know little or nothing. While this is especially true with IVR (interactive voice response - automated telephone polls, with questions recorded and answers given by touch-tone), which is what PPP does, it's also the case with live-interviewer phone surveys. There are two main risks: The respondent gets annoyed or frustrated or for some other reason feels compelled to hang up ("break off") rather than complete the poll, potentially leaving a sample that is biased in some way because those who complete the poll aren't representative of the surveyed population; and/or, if the respondent feels sufficiently invested (for whatever reason) in completing the poll, as time goes on s/he may "satisfice" and give whatever the easiest/quickest answer may be to any question, without giving it a lot of thought." [full Storify discussion]
AMERICANS SPLIT ON OBAMA'S HANDLING OF CLIMATE CHANGE - HuffPost: "As President Barack Obama publicly outlined his second-term plans to curb climate change Tuesday, a new HuffPost/YouGov poll finds that Americans are split on what causes climate change, and they are more likely to oppose than support Obama's approach to halting it. Thirty-three percent of Americans approve of how the president is handling the issue, while 40 percent disapprove, according to the online poll, which was taken before Obama's wide-ranging speech at Georgetown University on Tuesday. The remaining 26 percent weren't sure." [HuffPost]
WEDNESDAY'S 'OUTLIERS' - Links to more news at the intersection of polling, politics and political data:
-For the first time, the Fox News poll finds more registered voters rating Barack Obama unfavorably (51 percent) than favorably (47 percent). [Fos News]
-Barack Obama's strong favorable rating falls among Democrats. [WaPost]
-Hillary Clinton's favorable rating has declined this year, but remains higher than those of Barack Obama and Marco Rubio. [ABC News]
-Barack Obama's approval rating hits a new low in Ohio. [Quinnipiac]
-A United Technologies/National Journal poll finds Americans narrowly support a 20 week abortion ban, 48 percent to 44 percent. [National Journal]
-Americans views on the economy have improved, but are less satisfied with their standard of living than in 2007. [CNBC]
--69 percent of Americans would vote against a law to ban large size soft drinks. [Gallup]
-Rural voters are divided on whether the federal government play a greater role in strengthening their communities. [NYTimes]
-David Hill worries that campaign polling's move to "big data" threatens "to trample on privacy and confidentiality, as traditionally practiced by survey researchers." [The Hill]
-Mark Mellman reviews the polls showing division on Edward Snowdon's actions. [The Hill]
-Nathan Yau maps grocery store geography. [Flowing Data]
Correction:The table in the original version of this article had the wrong margin of error (+/-5.2 percentage points) for the widely reported results among registered Democrats in the Marist New York City Poll.