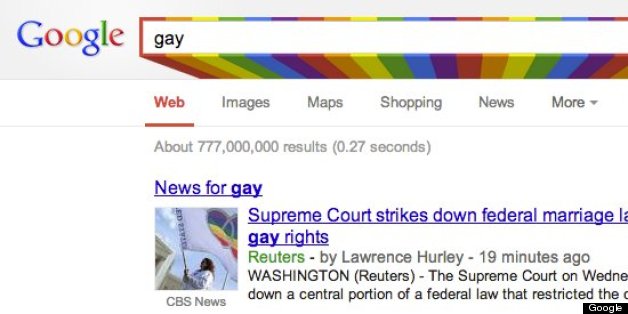 Could Google and Gay Pride month have timed it any better?
If you're searching for terms like "gay," "gay marriage," "lesbian" or "LGBT" in Google right now, you'll get a pleasant surprise: a rainbow colored search box that signals Google's support for Gay Pride month.
And surely there are many people searching these terms right now. On Wednesday morning the Supreme Court ruled the Defense of Marriage Act unconstitutional, the Clinton-era law that barred the federal government from recognizing same-sex marriages legalized by the states. The Supreme Court also left California's Proposition 8, banning gay marriage, for dead.
Other terms that bring up the rainbow search bar include: bisexual, transsexual and transgender.
Though Bloomberg and BuzzFeed had indicated this was a new development in the wake of the landmark decision on DOMA, this is actually Google's sixth year of integrating rainbow search bars for LGBT-friendly terms for pride month, which they started doing in 2008.
Google's also created a Google Pride logo for the Google 8th Annual Pride Parade on June 30 held in San Francisco, Chicago, New York City and Dublin. Here it is:
BEFORE YOU GO
PHOTO GALLERY
Supreme Court Proposition 8 Case