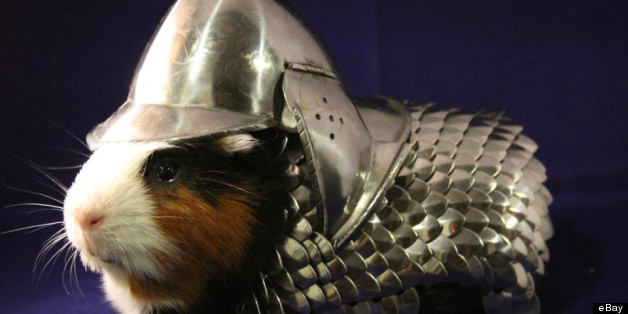 A little over a week ago, someone put an elaborately fashioned guinea pig suit of armor on eBay, and the Internet went crazy.
When HuffPost Weird News first learned about the sale, the highest bid was a measly $305.
On Friday, when bidding closed, that amount was $24,300.
Forty-seven bidders made 156 bids in 10 days.
You read that right.
According to the product's description, 100 percent of those profits will go toward Metropolitan Guinea Pig Rescue, a non-profit organization in Virginia dedicated to rescuing, rehabilitating, and finding new homes for unwanted guinea pigs.
Hats off to seller mightys0x. We certainly did not see that coming.
UPDATE: June 27 -- According to the Metropolitan Guinea Pig Rescue's Facebook page, the winning bidder in the guinea pig suit of armor auction has backed out. The item has been relisted on eBay here.
PHOTO GALLERY
Guinea Pig Armor
BEFORE YOU GO