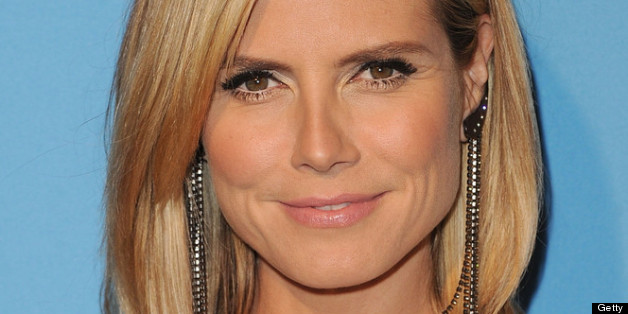 Heidi Klum, mother of four with soon-to-be-ex-husband Seal, opens up about the extremely creative "art projects" she likes to do with her children in an interview with YourTango. You absolutely will not believe what she does.
"So two of my boys, they have big afros, and when I shaved them all down, I kept all the hair and I put it in a Ziploc bag. I keep everything! But then, I waited and I'm like, 'I don't know what I'm gonna do with this.' It was so beautiful, this whole bag of afro: one for Henry, one for Johan. The next time they painted their faces, I glued all their hair around it, so it was like this three-dimensional painting. It's their face! And Henry was always a bit more blonde, like the tips are really blonde, and Johan's more dark. So you can see, this one looks like Henry and this one looks like Johan. It's so pretty."
Whoa. So is she a hoarder? Also, is she actually gluing their hair to their faces, or to pictures that they've painted of their faces? Unclear.
When asked about which "crafts" she's planning to do next, the quirky star replied, "I want to make a blanket now."
This is setting off alarm bells in our heads in light of the previous information. Please refrain from making a blanket out of your kids' hair, Heidi.
BEFORE YOU GO
PHOTO GALLERY
Heidi Klum & Seal