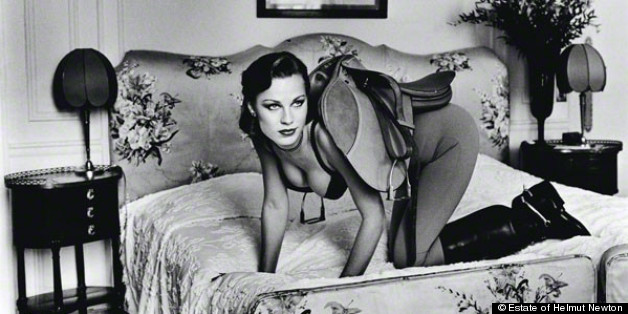 Photographer Helmut Newton liked to call Los Angeles the "land of make-believe." He and his wife June wintered in LA and were often seen galavanting around the Chateau Marmont Hotel and various iconic Hollywood landmarks. Newton, born in Berlin in 1920, is one of the most influential photographers of the 20th century. His photographs of women were provocative, highly sexualized, powerful and still feminine.
He shot for the biggest fashion magazines in the world, including Vogue and Vanity Fair. Newton was obsessed with the female form and created incredible nudes -- 90 of which now plaster the white walls at the Annenberg Space For Photography in Los Angeles, Calif.
Newton is known for his masterful compositions and his use of light -- but he really is known for taking fashion photography and breaking it wide open in the 1970s with his images of strong, sexy superwomen. Based on the collection at the Annenberg Space for Photography, the images are just as edgy today as they were when he shot them.
The exhibit also features two documentary films -- "Provocateur," which examines Newton's impact on fashion and photography, and "Helmut by June," which is a film shot and directed by Newton's wife. Newton has been called an "exploiter of women" by feminists and the "king of kink" by Time Magazine, but in his wife's film, he says of himself: "I have always liked strong women because I feel secure. The wind is likely to knock me down." He continued by saying that the Amazon woman has always appealed to him -- "the shrinking violet woman gives me the creeps." Newton had a very specific look. Big curves, big breasts, big hair, big everything. He liked a red lip, high heels and a smoky eye.
Newton said, "the perfect fashion photograph doesn't look like a fashion photograph at all. It looks like something out of a movie." Sounds perfect for Los Angeles.
Helmut Newton: White Women, Sleepless Nights, Big Nudes opens at the Annenberg Space For Photography on June 29 and will run until September 8. This is the first exhibition of Newton's work outside of gallery shows in Los Angeles.
Images below contain some nudity.
PHOTO GALLERY
Helmut Newton