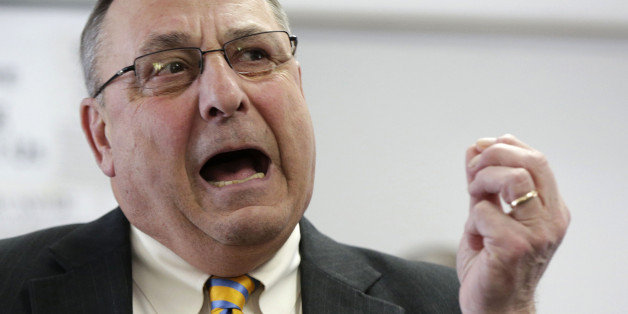 Maine Gov. Paul LePage (R) vetoed legislation on Monday which would have authorized a long-term study to prepare the state's communities and businesses for the effects of climate change.
The bill called for a multi-agency work group to develop legislative guidelines over the next two years, utilizing a climate change report submitted to the state house in 2010.
"I have serious objections to Resolves that impose unfunded mandates on the Executive branch or when the substance of the work is already being done," LePage wrote in a letter to the legislature, dismissing the plan as merely "layers of workgroups and reporting."
The bill left funding of the study up to the state agencies involved. It also instructed the work group to look for "funding from nongovernmental sources to assist with costs," but didn't name any specific entities.
"Nearly every state to the south of Maine is taking the threat of climate change seriously, and so should we," a spokesman for the Natural Resources Council of Maine said, according to the Portland Press Herald. "Now is not the time to be sticking our heads in the sand and pretending that a warming climate is not a major challenge to our economy, coastal properties and way of life."
As mayor of Waterville, Maine in 2010, LePage said in a radio interview, "I don't know if global warming is a myth or not, but I will say this: I do not believe in the Al Gore science." The Maine Public Broadcasting Network reported the gubernatorial candidate also said, "We just need to fight back" against "the scams."
"I don't have much patience for anyone who denies that this challenge is real," President Barack Obama declared on Tuesday in a speech outlining a new climate change action plan. "We don't have time for a meeting of the Flat Earth Society," he said.
A recent National Wildlife Federation report shows that climate change is already affecting Maine, shifting the range of the official state bird -- the black-capped chickadee -- northward toward Canada.
The Associated Press reported Wednesday evening that the Democratic-controlled Maine House failed to reach the two-thirds majority needed to override the governor's veto.
BEFORE YOU GO
PHOTO GALLERY
Connect The Dots On Climate Change