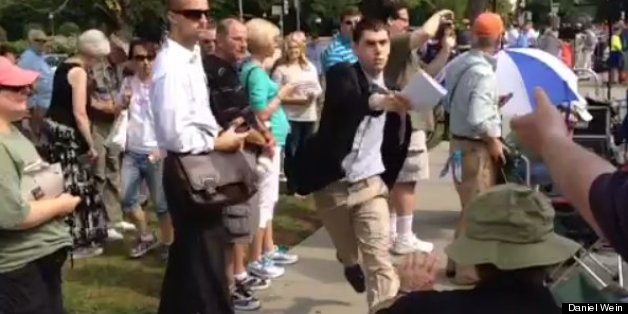 It's one of the biggest responsibilities any intern could be given: running the Supreme Court's decision on gay marriage from the courthouse to the networks waiting outside.
The Supreme Court handed down its landmark ruling on same-sex marriage on Wednesday morning, striking down the Defense of Marriage Act and dismissing Prop 8. Several interns got to play a critical role as history unfolded.

Daniel Wein, a student at George Washington University, was there for the press conference and took a video of the "intern foot race." He captured footage of SCOTUSblog intern Dan Stein bolting through the crowd and handing the decision off to a producer, who gave it straight to NBC News' Pete Williams (NBC News and MSNBC partnered with SCOTUSblog for coverage of the Supreme Court rulings).
NowThisNews' Julie Eckert — who shot video of another intern racing out of the courthouse with the Supreme Court's decision on the Voting Rights Act on Tuesday — tweeted on Wednesday, "I was too jammed in the crowd today to vine sprinting interns but I think @Nike should come out with an #intern line of sneaks."
News networks, which are not allowed to have cameras on the steps of the court, position runners in the press room ready to deliver the decision outside to correspondents. The pressure, of course, is enormous, as networks race each other to break the news.
BEFORE YOU GO
PHOTO GALLERY
Supreme Court Proposition 8 Case