 Surveys on abortion yield conflicting results, as much now as 24 years ago. And Lee Miringoff offers several good reasons for a conflicting horse-race result in New York City. This is the HuffPost Pollster update for Thursday, June 27, 2013.
POLLING BANS ON 20+ WEEK ABORTIONS - On Tuesday, Texas State Sen. Wendy Davis (D) stood for 11 hours to filibuster an anti-abortion bill that, among other restrictions, would have banned nearly all abortions after the 20th week of pregnancy. "But," reports the National Journal's Shane Goldmacher, "the latest United Technologies/National Journal Congressional Connection Poll shows that a plurality of Americans supports a ban on late abortions. Americans favor such a bill by 48 percent to 44 percent." The text of their question: "As you may know, the House of Representatives recently approved legislation that would ban virtually all abortions nationwide after 20 weeks of pregnancy, except in cases of rape and incest that are reported to authorities. Would you support or oppose such legislation." [National Journal]
But another poll shows opposition to the Texas bill, in Texas - A survey of Texas voters conducted last week by the Democratic polling firm Greenberg Quinlan Rosner Research found some countervailing attitudes. For example, the survey found that 63 percent of Texas voters agreed that "Texas laws already place enough restrictions on abortion and we don't need any new laws," while just 27 percent agreed with the alternative, "Texas laws do not currently place enough restrictions on abortions." The survey also described the bill in terms that echo the arguments of its opponents: "This proposal would put in place new restrictions and regulations on abortion providers that would likely result in the closure of all but five abortion clinics in the state of Texas, all of which are located along the I--35 corridor, and would ban most abortions starting at 20 weeks of pregnancy." Reacting to that description, 51 percent of Texas voters opposed the bill, while 42 percent supported it. [GQRR]
Why the conflict? - The lessons are not new. Consider this review, written twenty-four years ago by Karen Tumulty for the Los Angeles Times: "Abortion is a topic that leaves most people feeling uncomfortable and confused. Theirs is 'a conditional, complex, middle position,' says Thomas W. Smith of the University of Chicago's National Opinion Center, which has been tracking public sentiment on abortion since the early 1960s...Surveys on abortion often yield contradictory results. Ask a question one way, and a solid majority of Americans will say that abortion should remain legal. Change the wording a bit, and the same group will favor banning it. Nonetheless, from these surveys comes what both sides realize is the winning strategy in the nation's war over abortion. 'Just as the polls come out according to the way the question is asked, so will the outcome of elections depend on who is more successful in framing what the question is all about,' [Democratic pollster Harrison] Hickman says." [LA Times via @ktumulty]
Washington Post polling director Jon Cohen: "[I]t's not really about not believing polls, rather that polls can't give simple answers when no simple answers to be had." [@jcpolls]
NYC MAYORAL POLL FOLLOW-UP - First, the initial version of yesterday's Pollster update reported an incorrect margin of error (+/--5.2 percentage points) for the widely reported results among registered Democrats in the Marist New York City Poll (the correct margin of sampling error for that sample was +/- 3.7). As such, while the estimates of Anthony Weiner's support among all registered Democrats produced by the Marist and Quinnipiac polls (25 and 17 percent respectively) were different outside the margins of error, though just barely.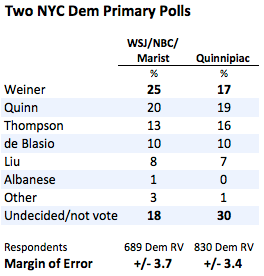 Pollsters explain difference -- Meanwhile, the New York Post reached out to pollsters at Quinnipiac University and Marist College to explain the difference: "[Quinnipiac poll director Mickey] Carroll explained the discrepancy by noting that Quinnipiac polled after the UFT endorsement, but Marist had finished surveying days earlier. Also, Marist poll chief Lee Miringoff said his questioners ask undecided voters how they're leaning; Quinnipiac does not." [NY Post]
More from Miringoff -- The Marist Institute director made several further points on Twitter, noting that in the Marist poll, Weiner took 29 percent to Quinn's 19 percent among male voters, while in the Quinnipiac poll, Quinn had 23 percent to Weiner's 19 percent among men. Miringoff also noted that the two polls were fielded on different dates, had different proportions of Latino voters, and that Marist conducts interviews in Spanish, though he added that both polls show a decline for Quinn, and improved numbers for Weiner and Thompson. Registered Democrats are 27 percent Latino on the Marist poll and 18 percent Hispanic on the Quinnipiac poll. Weiner received 23 percent of the Latino vote on the Marist polls compared to 12 percent on the Quinnipiac survey. [@LeeMiringoff as compiled on Storify, Marist results, Quinnipiac results]
Multi-candidate primaries be volatile -- The Guardian's Harry Enten: "Headline from May 1977 NYT "Observers predict Beame-Abzug [Runoff]"... Of course, neither made it. Be very afraid of too much confidence." [@ForecasterEnten]
SCOTUS VOTING RIGHTS ACT FOLLOW-UP - Political scientist Barnard Fraga uses an individual-level voter file analysis to examine a critical assertion about voter turnout at the Shelby County v. Holder decision and reaches a different conclusion: "[R]ecent state-level election results appear to back up the Court's assertion that black voter turnout is often not substantially lower, relative to whites, in southern states. However, the narrow focus on state-level figures hides the fact that higher black voter turnout may actually be associated with VRA-mandated redistricting, instead of a robust sea-change in Southern politics. When combined with even a slightly deeper analysis of turnout, as presented above, it is clear that the majority's own narrow formula for "success" could miss the very conditions the Voting Rights Act sought to remedy." [The Monkey Cage]
THURSDAY'S 'OUTLIERS' - Links to more news at the intersection of polling, politics and political data:
-Americans approve of "Democrats in Congress" more than "Republicans in Congress," but only slightly more. [Gallup]
-Opinions of business corporations and labor unions rebound since 2011. [Pew Research]
-Californian's support a pathway to citizenship, but a large majority also supports greater border security, electronic verification and deportation of those who fail to meet pathway conditions. [Berkeley via Monkey Cage]
-Nate Cohn thinks Republican and evangelical opposition to same sex marriage will persist. [TNR]
-Nate Silver says the availability of legal same-sex marriage worldwide is set to double over the course of one year. [NYTimes]
-Nate Cohn argues that opinion on gay marriage will follow the trajectory of abortion, with evangelicals and Republicans remaining largely opposed. [TNR]
-Republican pollster Micah Roberts aggregates recent findings on the role of, concern about, and confidence in the federal government. [POS]
-Public support for Edward Snowden dips. [Reuters]
-A Pixar chart that does nothing for the story. [Junk Charts]
-Cheating women prefer Banana Republic. [NY Daily News, via @LSimonetta]