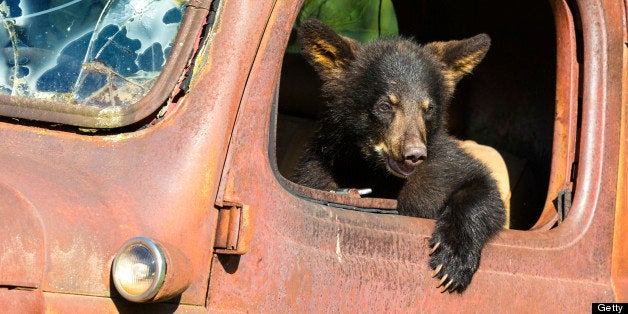 He just couldn't bear to be on the outside looking in.
Earlier that night, a neighbor had alerted the zoo that the bear was in the vicinity after seeing the furry fellow in nearby Chilhowee Park area.
KnoxNews reports that zoo staff, suspecting the loose bear might be one of their own four black bears, quickly counted their bears' noses and discovered that all were present.
After the bear's initial sighting, he was not seen again. He likely didn't want to be a fifth wheel.
Apparently, an unexpected visit from a black bear isn't that uncommon.
"This is when the younger bears are starting to seek out their own territory," Amy Flew, curator of mammals at the Knoxville Zoo told WBIR.com."Unfortunately, with the close proximity of our homes to their habitats, sometimes we may cross paths," Flew said.
After the park was secured, Knoxville Zoo's executive director Lisa New had some fun quips about the incident:
"Of course, our Black Bear Falls is one of the top habitats in the country so maybe word has gotten out in the black bear community."
While this is the first case we've heard of a bear trying to break into a zoo, it comes after a slew of recent bear sightings throughout the country, particularly in the D.C. suburbs.
On June 25, a medium-sized black bear was seen in a resident's backyard in Fairfax County tearing down a bird feeder. Earlier last week, another black bear was spotted leisurely trotting around the Kentlands neighborhood.
Summer, 'tis the season to bear it all.
BEFORE YOU GO
PHOTO GALLERY
Animals In The News