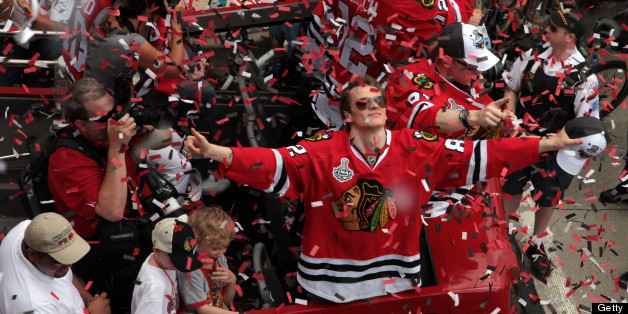 Before a week of Stanley Cup tracking kicked off, the last time Chicago caught a glimpse of the "best trophy in sports" was during the massive Blackhawks victory rally three years back.
(Read our guide to Friday's 2013 Blackhawks victory parade and rally.)
An estimated two million fans packed the streets of downtown Chicago to celebrate the team's victory, yielding some memorable moments, including right winger Tomáš Kopecký (alas, a Hawk no longer) doing his best "I'm king of the world!" pose and Duncan Keith's toothless smile that only a hockey fan could love.
Story continues below
PHOTO GALLERY
A Look Back: Blackhawks 2010 Victory Parade
Fans took to bus shelters, lamp post bases and any elevated surface they could find to catch the team, their families and other members of the Blackhawks organization (trainers, owners and the like) rolling through the Loop in open-top double-decker buses.
The 2010 parade took a different route than this year's straight shot running east on Washington from Des Plaines, and the post-parade rally was more impromptu than Friday's bash planned for Grant Park.
After fans crashed barriers and flooded the streets to chase the team in their buses, Chicago's top cop Garry McCarthy issued a stern warning to would-be fence jumpers at this year's rally: jump the barricade, and you'll be carted off in handcuffs.
Though Chicago Mayor Rahm Emanuel has promised the 2013 celebration will be something out of "Ferris Bueller's Day Off," DNAinfo Chicago reports this year's blowout will have a notable absence: Ticker tape.
Can you really blame the city after this?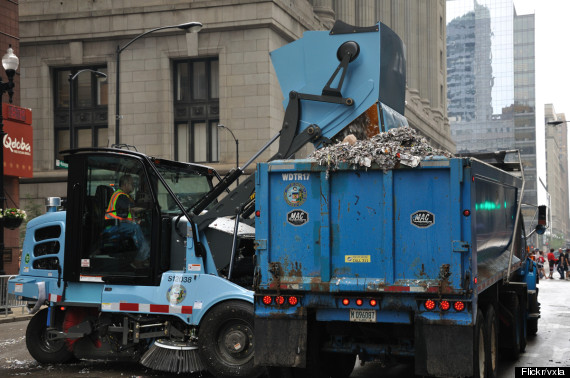 (Photo courtesy of Flickr user vxla.)
BEFORE YOU GO
PHOTO GALLERY
Celebration And Destruction Post-Blackhawks Victory