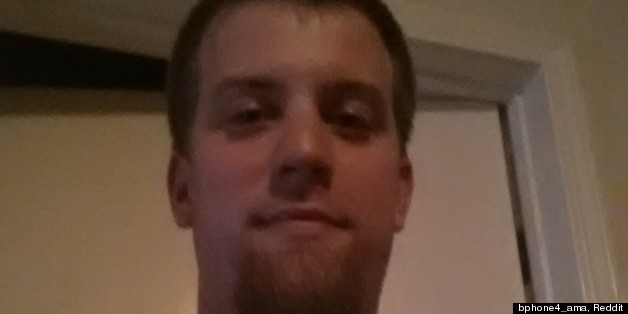 Guys, remember when America lost its mind over the iPhone 4?
It's hard to imagine now, as we've all been dazzled by the Samsung Galaxy's fab phabletness, but once upon a time -- 2010 actually -- people were desperate to learn about the soon-to-be released iPhone 4.
So desperate, in fact, that when a 21-year-old guy stumbled upon a prototype for the not-yet-released fourth version of the iPhone in a Redwood City, Calif., bar and leaked it to a tech blog, things quickly spiraled out of control.
That kid, Brian Hogan, now 24-years-old opened up about the whole nightmare in an Ask Me Anything on Reddit Thursday.
"It was extremely tough on my family, there were news vans in front of my house," Hogan writes in the AMA. He says his family eventually fled to a hotel. "My name got out in the media because my girlfriend at the time made a Facebook post about it." He writes that he and his girlfriend broke up about three months later.
Hogan didn't see any of this coming as he was heading out of a bar after last call and a drunk man approached him about a phone sitting on a barstool. The stranger told Hogan to take the phone, assuming it was Hogan's. Long-story short, the next day Hogan realized that the iPhone he was holding was no ordinary handset. He writes on Reddit:
First I noticed that the screen looked like it had a higher resolution than any iPhone I had seen, then that the case had plastic pieces/buttons in strange places. When I took the case off I found an iPhone with a flat back, flat edges, and a forward facing camera. There were two bar code stickers on the back, and there were a series of x's instead of a serial number. I was very curious/excited at this point, but I had no idea what I had.
Hogan and his friend tried contacting Apple, but says the company "blew him off." They wound up in touch with tech blog Gizmodo, which offered to pay him for the story. In the Reddit AMA, Hogan seems most upset with Gizmodo and Reddit commenters quickly jumped in to criticize the website on Wednesday. "I wish Gizmodo and Gawker would go bankrupt as much as they are ethically/morally bankrupt," Reddit user realtedartists writes.
Gizmodo wrote and published an article about the accidentally leaked iPhone in April, 2010. It was later revealed that the phone belonged to Apple software engineer Gray Powell, who lost it while testing it out in the field (a bar).
After Gizmodo published the photos, Apple was not pleased. While Hogan was never actually sued, he was threatened with lawsuits, and suggests that he paid a lawyer with the $5,000 Gizmodo gave him. Hogan writes that he and his friend were each fined $125 by the courts after being charged with "misdemeanor misappropriation of lost property," who decided the phone was worth $250. Hogan also had to do 40 hours of community service, and served 1 year of informal probation. Gizmodo was never sued either.
"My friend and I were the ones that took the heat," Hogan writes. "From my perspective Gizmodo took advantage of me."
Gizmodo did not immediately respond to a request for comment.
When asked what he would have done differently, Hogan writes: "I would have done lots differently looking back now, but how does anyone know what do do in that situation, let alone the 21 year old version of myself. What would you have done if you thought you had an unreleased iPhone?"
BEFORE YOU GO
PHOTO GALLERY
iPhone 5 vs. iPhone 4S