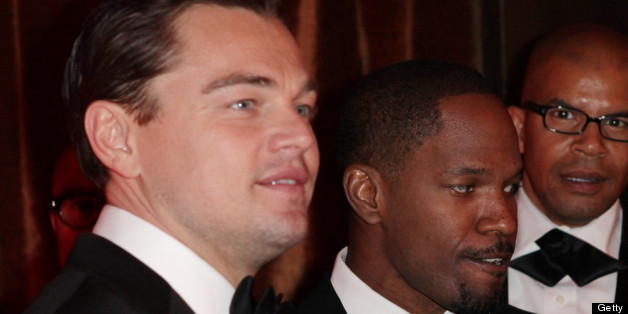 Leonardo DiCaprio and Jamie Foxx were at each other's throats in "Django Unchained," but the pair will team up for "Mean Business on North Ganson Street." That's the word, at least, from Deadline.com, which reports that DiCaprio and Foxx will star in the film, an adaptation of Craig Zahler's currently unpublished crime novel.
"Mean Business on North Ganson Street" focuses on a detective (DiCaprio), who gets sent to Victory, Missouri after an incident at his precinct. There, he teams with an equally tarnished officer (Foxx), and the duo attempt to figure out why so many local cops are winding up dead. Think: "In the Heat of The Night" plus "The Heat"?
When "Mean Business on North Ganson Street" will actually arrive in theaters, of course, is anyone's guess. Foxx is set to co-star with Quvenzhane Wallis and Cameron Diaz in "Annie," which is out on Dec. 25, 2014. DiCaprio, meanwhile, was attached to star in a new film about Rasputin in early June. That film might not go in front of cameras for a while either: DiCaprio has expressed interest in taking a break from performing. "To me, right now it's about getting a little breather -- getting some time off," DiCaprio told Extra during an interview in January. "Not a permanent break or not an indefinite period, but you know, just a few months off to do some other things."
For more on "Mean Business on North Ganson Street," head to Deadline.com.
[via Deadline.com]
PHOTO GALLERY
Celebrity News & Photos