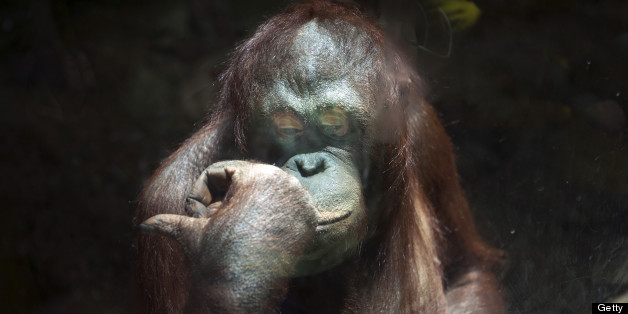 It's not really socially acceptable to drink beer and act like a monkey.
Unless you're at the Smithsonian National Zoo's Brew at the Zoo event -- an annual fundraiser for animal conservation around the world.
A $65 ticket to the July 11 party entitles you to pours from more than 60 breweries, tunes from D.C. band Gonzo's Nose, access to local food trucks, and rides on the Trolley Pub (described by the zoo as a "pedal-powered, eco-friendly, pub-crawling trolley for up to 14 people at time").
For those willing to dish out a few more bucks, the $85 VIP access also gives you early admission, animal demonstrations (though we doubt they will have any red pandas running about) and food from local restaurants like Jack Rose Dining Saloon and Belga Cafe.
And if that isn't enough to to entice you, it's also a great way to check out the National Zoo's new resident artist -- Bozie, the Asian elephant that made her public debut Thursday.
Bozie made her way to the National Zoo in May from the Baton Rouge Zoo after her longtime partner, Judy, died. And she has a not-so-secret talent: she can paint!
Tickets are on sale now online and at the zoo visitor's center. Friends of the National Zoo members get discounted tickets.
BEFORE YOU GO
PHOTO GALLERY
Elephant Trails