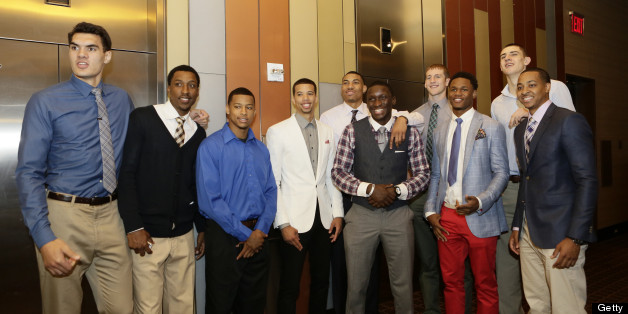 The Cleveland Cavaliers will be the first team on the clock during the 2013 NBA Draft, provided they don't trade the pick at the last minute.
Even with the 2013 NBA Draft just hours away, there was no clear-cut choice at the top spot and trade rumors swirled around many of the teams with lottery selections. Maryland's Alex Len, one of the players in the mix at the top of the draft, sensed that the Class of 2013 was particularly volatile.
"This draft is really unpredictable, a lot of guys with injuries and you don't have any, like, LeBron James," Len said the day before the draft, via the Associated Press.
Will there be any surprise picks or blockbuster trades? Scroll down for live updates on the NBA Draft.
06/28/2013 12:22 AM EDT
Mr. Irrelevant
Janis Timma from Latvia has been drafted by the Memphis Grizzlies with the final pick of the 2013 NBA Draft.

Scroll down to check out the selections.
06/28/2013 12:15 AM EDT
59th Pick
With the penultimate pick in the 2013 NBA Draft, the Wolves grab a long Serbian named Bojan Dubljevic.
06/28/2013 12:12 AM EDT
58th Pick
With the 58th pick in the #NBADraft the San Antonio Spurs select DeShaun Thomas from Ohio State. #GoSpursGo

— San Antonio Spurs (@spurs) 4 years ago
06/28/2013 12:12 AM EDT
57th Pick
With the 57th pick in the NBA Draft the Phoenix Suns select forward Alex Oriakhi. #SunsDraft

— Phoenix Suns (@Suns) 4 years ago
06/28/2013 12:10 AM EDT
56th Pick
With the 56th pick in the 2013 NBA draft, the #Pistons select Peyton Siva, guard from Louisville

— Detroit Pistons (@detroitpistons) 4 years ago
06/28/2013 12:09 AM EDT
Lannister Effect
I can't root for the Grizzlies. They took Joffrey.

— Greg Rosenstein (@grosenstein) 4 years ago
06/28/2013 12:06 AM EDT
54th Pick
The Wizards select Oregon Ducks power forward Arsalan Kazemi.
06/28/2013 12:03 AM EDT
Pacers trade their second-round pick, No. 53, for cash to Boston, who selected Colton Iverson from Colorado State.

— Scott Agness (@ScottAgness) 4 years ago
06/28/2013 12:01 AM EDT
53rd Pick (On The Move)
Boston has just confirmed it got No. 53 from Indiana for cash and will select Colton Iverson from Colorado State.

— Andy Katz (@ESPNAndyKatz) 3 years ago