New Mexico's Catholics don't think their religious icon belongs in a bikini.
The Santa Fe Reporter, a New Mexico alt weekly, is in hot water for running a cartoon featuring Our Lady of Guadalupe in a bikini, sipping on a margarita, on the cover of its "Summer Guide 2013."
"If your intent was to in effect slap Catholics across the face, by putting forth this public depiction of Our Lady as a party girl, during the very week that we honor her as our patroness, then I can only say that from my perspective, you succeeded," Rev. Adam Lee Ortega y Ortiz wrote in a letter to the editor published on the Santa Fe Reporter's website. "I wonder whether the Reporter would feel free to depict Mohammed as an alcohol-guzzling, womanizing hedonist?"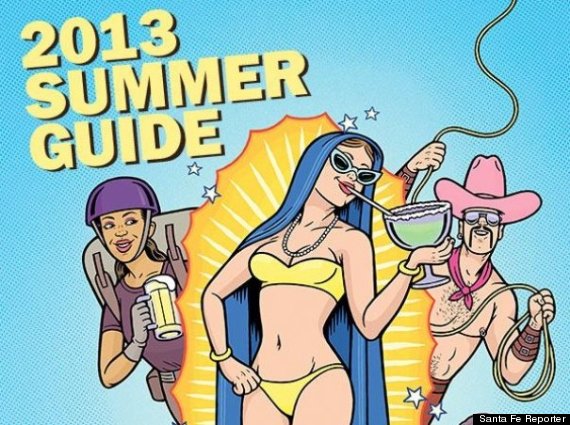 Notwithstanding the outcry, the Santa Fe Reporter defended the image as a lighthearted portrayal of the city's culture.
"She is a cultural icon in this town, not just a religious one," Santa Fe Reporter publisher Andy Dudzik told ABC News affiliate KOAT. "Which means she belongs to the whole community and not just the church."
Dudzik's plea for tolerance of differing perspectives has fallen on deaf ears. He's been receiving a constant deluge of hate mail, email and vitriolic comments, according to KOAT.
The cartoon didn't leave everyone outraged, however.
"I could see that a little bit but, uh I don't know, it doesn't bother me at all," Deandro Nevarez told Eyewitness News 4 when asked about the image.
H/T: Latino Rebels
BEFORE YOU GO
PHOTO GALLERY
Dumbest Commentary About Latinos In 2012