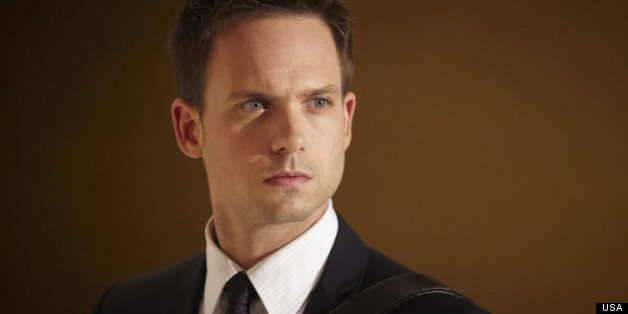 It's nice to know that actors aren't any more immune to the addictive power of "Game of Thrones" than the rest of us. "Suits" star Patrick J. Adams recently admitted that he wasted no time "fangirling" over dearly-departed "GOT" star Michelle Fairley while she was on set filming a guest role on the USA legal drama.
In an interview with Access Hollywood, Adams admitted that he wasn't aware that the bloody Red Wedding was ahead when Fairley arrived to shoot her scenes, but it didn't take him long to realize that something ominous was on the cards for her character, Catelyn Stark.
"I did not know what was going to happen to her, but I had suspected [something] because in my fangirling, it was like trying to make conversation -- 'When are you going back to work? When are you gonna do that?' And she was just like… 'Ah. Well. We'll go back …' You could see her kind of stumbling over it and then I saw it in her eye and I just was like, 'Stop. No more. I know,'" Adams recounted during Access Hollywood's recent set visit.
"So then I assumed that she was gonna go and I was like, 'That's OK. That's OK to know. I don't know how it's gonna happen.' And then, I obviously saw the Red Wedding the other day and it wasn't just her, but the entire army of the North and it brutalized me and the only thing that got me through was being like, 'Well, at least I get to go work with Michelle the next morning. That's the nicest thing about it,'" he continued.
On "Suits," Fairley will play Ava Hessington, the head of a UK oil company who seeks Harvey Specter's (Gabriel Macht) help in fighting off bribery charges. She'll join fellow "Game of Thrones" star Conleth Hill (Lord Varys), who boarded "Suits" at the end of Season 2 as Edward Darby, who merged his firm with Pearson Hardman in the finale.
"We're huge Game of Thrones fans — we talk about it, we watch it, we love it," "Suits" executive producer Aaron Korsh recently told TV Guide. "Michelle has a steel and a vulnerability in her that lets us question if she is behind what she is being accused of or not."
Adams pointed out to Access Hollywood that the role is "a different part for her. She's such a lovely woman, with such an amazing sense of humor so I think it was a really good fit for her ... 'Game of Thrones' is a lot of fun, but it's not, I think, known for its sense of humor … so it was fun to get her on set and start getting to laugh with her a little bit."
Adams' co-star and on-screen love interest Meghan Markle was equally thrilled by Fairley's presence, telling Access and other reporters, "I brought her flowers ... I wrote her a long e-mail after I watched [the Red Wedding] going, 'I am just blown away. You are a force. It's amazing.' And then I saw her the next day and I brought her flowers and a card like, 'Rest in peace, Lady Stark. Cheers to you.'"
For more on Fairley's "Suits" appearance, click over to Access Hollywood.
"Suits" Season 3 premieres Tuesday, July 16 at 10 p.m. ET on USA.
PHOTO GALLERY
Summer TV Guide