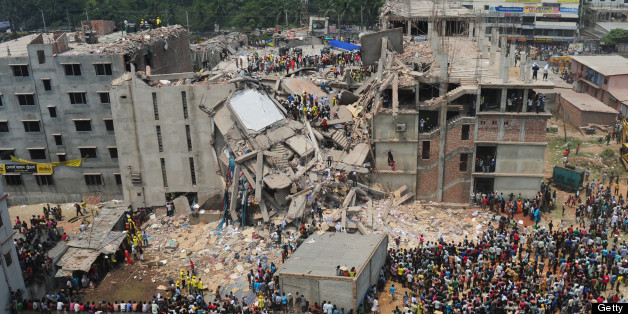 Months after facing criticism for not signing on to a legally binding deal to improve worker safety in Bangladesh, Walmart, the Gap and other retailers are nearing a separate agreement to improve the country's factory conditions.
Walmart and Gap were two of the many North American retailers that didn't sign on to the Bangladesh Safety Accord earlier this year, and the retailers have since faced pressure to address Bangladesh safety conditions in the wake of a garment factory collapse that killed more than 1,000 workers in April.
The new deal reportedly could be announced as early as July and will include a $50 million fund to go towards boosting safety conditions in Bangladesh garment factories, the Wall Street Journal reports, citing a source familiar with the talks. The agreement hinges in part on the Bangladeshi government cooperating with the retailers to ensure accountability at the factories.
"At this point only a few final details remain to be worked out and agreed upon. We remain on track to complete the process by early July," Jason Grumet, President of the Bipartisan Policy Center, the group brokering the deal, said in a statement released Tuesday.
The deal differs from the Bangladesh Safety Accord in that it is not legally binding. Gap and Walmart contend their deal will allow them to address safety concerns quicker.
After facing criticism for not signing the accord, Walmart and the Gap led a coalition of retailers -- including Macy's, Sears and JC Penney's -- to create a new Bangladesh safety plan. Labor activists initially criticized the talks because there was no indication that they would result in a legally binding agreement.
Richard M. Locke, an MIT professor and expert on overseas manufacturing, told The New York Times at the time that the retailers launched the new effort because "they must have been feeling the heat."
"The idea that you would bring all these people together in this new effort is a good first step," he said. "But I don't think it's good to have competing initiatives."
BEFORE YOU GO
PHOTO GALLERY
Who's Missing From The Bangladesh Safety Accord?