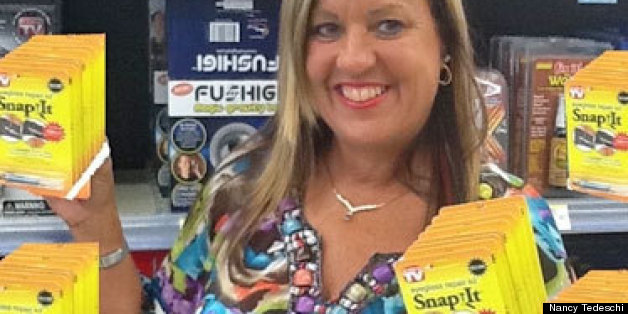 One of the reasons I started my website is that I wanted a place for women to come together and dream. We women need to know that we don't have to hang on to an old dream that has stopped nurturing us -- that there is always time to start a new dream. This week's story is about a woman who struggled to bring her mom's great idea to fruition. But during the process, she came up with her very own discovery. Today, the SnapIt Screw is poised to hit Walmart shelves -- and Nancy Tedeschi is starting a very exciting second act. -– Marlo, MarloThomas.com
By Lori Weiss
Tens of thousands of miles away in Nicaragua, Nancy Tedeschi's mother, Leatha Farrell, was busy improving the lives of the less fortunate. She and her husband traveled the world, helping to revitalize schools, orphanages and poverty stricken communities. What she couldn't have known was that her good works would lead her to an idea that would ultimately make her daughter a millionaire.
"My mother," Nancy explained, "was 73 at the time and helping to build latrines in the rural village of Vimeo. Her glasses broke and she needed a quick fix, so she took her dangling turquoise earring out and used the wire to hold them together. The turquoise stone hung from her glasses like a charm and everywhere she went -- whether it was on the streets of Nicaragua or at the theater in New York, women would stop her and ask where she got it!"
Leatha was convinced that her daughter could make millions if she could find a way to invent charms for glasses. Nancy, who owned a title company, didn't know the first thing about manufacturing -- and little more about jewelry -- but that didn't stop her from trying. She spent hours at a conference table with her staff, removing the tiny screws that hold together glasses and then adding in an even smaller washer which would secure beautiful crystals and pearls.
"It would take us an hour to attach each charm," Nancy sighed, "especially for me, at 50! I thought, 'Who would ever do this?' and how could they -- especially if they needed the glasses they were working on to see those tiny parts!
And that's when Nancy had a light bulb moment. Millions of people wear glasses and just as many have spent hours trying to fix them. If she could re-invent the screw by adding a long snap off piece, which would allow the average person to fix their glasses in 30 seconds -- that would be the real money maker and just the charm she was looking for.
Article continues below slideshow.
PHOTO GALLERY
It Ain't Over: Nancy Tedeschi
So she put away her pretty crystals and took her idea to a manufacturer who'd been making tiny screws for the optical industry for decades.
"He was blown away! It was such a simple solution for such a common problem. And there was a huge hole in the market."
Without another thought, Nancy went into production -- and manufactured 10,000 screws before she took the concept to a single store. And when she had her first samples, she called the editor of a popular optical magazine. He was so impressed with her idea, which she named the SnapIt Screw, he couldn't wait to write about it. Three days later, her phone was ringing.
"I got a call from an optician," the insightful inventor recalled, "who couldn't believe what he was seeing. I was so excited that someone wanted to see my screw, I overnighted a package to him. He called again the next day and said he'd been trying to invent a tool that would make fixing eye glasses simpler for more than 35 years, but it never occurred to him to invent a new screw! He called his sales rep, who took it to the president of an optical distributor and five months later, they were selling my screw to opticians around the country."
That partnership would eventually turn into a seven-figure licensing deal and an Award of Excellence from the American Optical Laboratories Association. But that was just the beginning. Once Nancy had the SnapIt Screw in the hands of opticians, her next step was to put her new product on store shelves.
"I hired sales reps who assured me they were experts at bringing products to market -- but then my screw just became one of many things they had in their bag of tricks. I gave one of them $10,000 up front and never made a penny. The invention is the easy part. Bringing it to market is the real work."
Slowly but surely, Nancy made her way into stores like Office Depot and Ace Hardware. But it was when she read about a contest -- a sort of American Idol for inventors -- that she really went to work. Walmart was looking for new products and created a competition called "Get On The Shelf," where consumers could vote for their favorites via social media or text.
"I became a complete pain in the ass!" Nancy laughed. "I sent messages on Twitter and Facebook and LinkedIn every day, reminding my friends to vote. I had people asking me not to email them anymore! But I was determined to win this. So I found a woman in Chicago who made costumes and I paid her $600 to make a giant screw. Then I bought airline tickets to New York for myself and my assistant, Alex."
"From the moment we got to the airport, people were texting the SnapIt Screw number -- even the TSA screeners were doing it -- after they asked Alex to take off the costume, of course! Before we left the ground, a stewardess told everyone on the plane what we were doing and all the passengers started voting!"
And then the determined inventor and her truly dedicated assistant made their way to Times Square.
"We got up early," she said with a smile, "and went to the studio where they shoot 'Good Morning America.' Robin Roberts came out to take a picture with Alex and the crowd all started texting! And the next morning, when we went over to 'The Today Show,' Lester Holt held up a sign with our number on it, on the air!"
It wasn't long before Nancy's hometown paper in Clearwater, Fla., reported that there was a screw on the loose, which brought in even more votes. And when the final count was in, the SnapIt Screw was on its way to Walmart.
"They announced it on CNN! And I was so excited! But then I found out that the winners were only going to be sold on Walmart's website, not on the actual store shelves. After all that work, I was so bummed."
"But then I got an invitation to speak at a meeting for Walmart's salaried employees, and I knew that was my chance to corner the CEO of Walmart America. He gave me his card and asked me to email him. And the next day I got a response, saying that he loved my product and was putting his most senior merchandiser in touch with me."
And Nancy's persistence paid off. In the coming months, the SnapIt Screw will be on the shelves of Walmart stores nationwide. Now she's talking with automotive and technology companies about adapting the SnapIt screw for industrial use -- and she's in discussions with the government about ways to put her kits into the hands of men and women in the military.
The tenacious entrepreneur has 15 patents and another 30 pending, including one for the original idea that got all this rolling -- so that one day soon, she can get back to her mother's charming idea.
"I put every dime I had in the world into this project. If I didn't make it, I was starting back at square one at 50 years old. I look back now and think, "Holy crap, I did it!"
And then for a brief moment she paused, clearly wanting to pass on something that would encourage others to follow in her footsteps. "The most important thing I can say is, don't listen to people who say it can't be done. There were plenty of people who called me the crazy screw lady. Well, I'm not so crazy now, am I?"
Add Marlo On Facebook:
Follow Marlo on Twitter:
Sign up to receive my email newsletter each week - It will keep you up-to-date on upcoming articles, Mondays with Marlo guests, videos, and more!