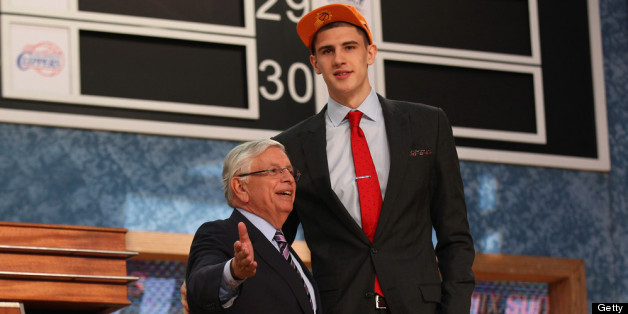 PHOENIX (AP) — The Phoenix Suns chose Ukrainian center Alex Len with the fifth overall pick in the NBA draft, passing on Nerlens Noel and Ben McLemore.
The 7-foot-1 Len, who just turned 20, played two seasons at Maryland. Last year he averaged 11.9 points and 7.8 rebounds per game. Len came to Phoenix but did not work out because he is recovering from a stress fracture in his foot.
Because of a couple of surprise picks ahead of them, the Suns found that Noel, the big center from Kentucky, and McLemore, the sharpshooting guard from Kansas, were still available. But new general manager Ryan McDonough and new coach Jeff Hornacek went for Len.
The pick in Thursday's draft was the highest for the Suns since they chose Armon Gilliam second overall in 1987.
With its second pick in the first round, Phoenix made a trade with Golden State to move up a notch to No. 29, selecting 18-year-old Kentucky guard Archie Goodwin. The Suns see the 6-foot-5 Goodwin as a point guard. He led Kentucky in scoring in his one season there at 14.1 points per game but shot just 36 percent. The Suns selected power forward Alex Oriakhi of Missouri in the second round.
Hornacek said the Suns had Len as their top player and they were concerned he would go to Cleveland at No. 1.
"When Anthony Bennett went first, I think everybody in the room was excited to think that, 'Hey, the guy that we have rated highest on our board may end up getting there," Hornacek said, "and that's exactly what happened with Alex."
Noel had been projected by many as the No. 1 overall pick, but Hornacek said the Suns preferred Len because of "his overall skill."
"Is he as good a shot blocker as Noel? Maybe not," he said, "but he still is long and can block shots and he has the offensive game."
McDonough says he first saw Len play three years ago in Europe.
"I was in Vilnius, Lithuania, in the European under-18 championships in the summer of 2010," McDonough said. "The gym was about 117 degrees. I think there were 32 people there. But I didn't know Alex. I think he was 17 years old playing up with the 18-year-old group. The kid came out and he was blocking shots above the rim and rebounding. Now he's improved a lot since then, but you could see the raw, physical package. Obviously, there aren't a lot of guys in the world who are 7-1 who can move like that and have that skill."
A gymnast as a youngster, Len has good agility for such a big man, Hornacek said.
"Let's face it, how many times has the Phoenix Suns organization had a 7-1 guy with that type of skill?" the coach said.
In a matchup with Kentucky and Noel early last season, Len had 23 points, 12 rebounds and four blocked shots. Len had 20 points in a loss to North Carolina in the ACC tournament semifinals. He served a 10-game suspension to start his freshman season due to NCAA amateurism guidelines.
Len said he believes his game fits the NBA well.
"It's better spacing, so I'm going to have more room to work on the block, in the post," he said. "Also I'm excited to play next to Goran Dragic. He's a great player. He has a great vision on the floor. He likes to play the high tempo, so I think it fits my game well."
He said he's probably better on defense than offense for now.
"I have size and also I'm pretty agile and coordinated for my size, so I can hedge on ball screens and alter shots and block shots," he said, "so I think I'll be able to contribute right away on the defensive end of the floor, and I'm going to do whatever the coaches want me to offensively."
Phoenix, coming off the second-worst season in franchise history, has needs everywhere. If Len immediately moves in at center, the Suns could well try to trade Marcin Gortat. However, Hornacek said it would be good to have Len learn from Gortat.
Len said he expects to be able to resume basketball activity in August and Hornacek said the Suns believe he will be ready for training camp.
McDonough, the assistant to general manager Danny Ainge in Boston, took over in Phoenix after Lance Blanks was fired. McDonough, in turn, brought in Hornacek, a highly popular player with Phoenix and Utah who was an assistant coach of the Jazz the past two seasons.
Len, Goodwin and Oriakhi were among the 74 players brought to Phoenix by the Suns, although a few, Len included, were unable to participate due to injuries.
___
Follow Bob Baum at www.twitter.com/Thebaumerphx
BEFORE YOU GO
PHOTO GALLERY
NBA Draft 2013: First Round Results