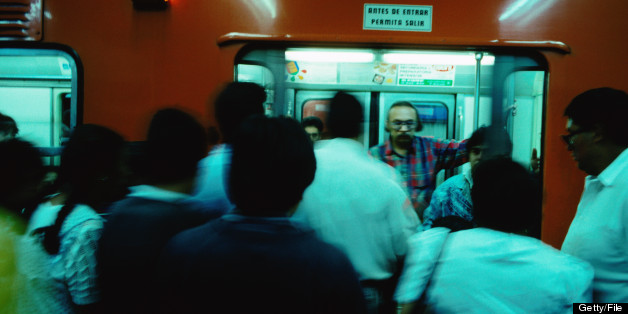 Another woman has given birth on the Mexico City metro.
Ana María Paulina López, 32, gave birth to a baby girl on the Tacubaya station, with a helping hand from first aid workers manning the transit system, Animal Político reports.
Paulina López is the third woman to give birth within the Mexico City metro system this year, according to the Public Transit System (STC, in Spanish). Another baby was born on the city's subway in 2012, CNN reports.
She approached a transit worker after feeling pain in her stomach and hemorrhaging, who in turn led her to medical workers employed by the transit system to respond to emergencies, according to Animal Político. They called an ambulance, but it didn't come fast enough.
Her husband, Agustín Vera Salgado, said Paulina López was only six months pregnant.
But despite the early exit, both the mother and the newborn baby girl are doing fine, Mexican daily Vanguardia reports.
When 22-year-old María Zamora Nieto gave birth to a baby on the subway, Mexico City Mayor Miguel Ángel Mancera announced that the child would ride free for life.
Some 5.1 million passengers use the Mexico City metro daily, according to CNN.
BEFORE YOU GO
PHOTO GALLERY
Teotihuacan