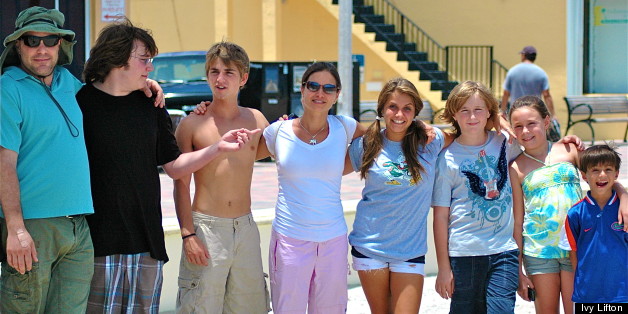 As part of our Blended Family Friday series, each week we're spotlighting a different stepfamily to learn how they successfully blended their two families together. Our hope is that by telling their stories, we'll bring you closer to blended family bliss in your own life!
This week, blogger Ivy Lifton is introducing us to her blended family. Ivy runs a site called Blended Ways where she chronicles her life with her husband and her kids, who range from age 9 to 19. Below, the busy mom -- and the kids themselves! -- share what they love most about being part of a blended family.
Hey, Ivy! Please introduce us to your family.
My husband and I have six children. When we came together, our youngest was 7 years old; Cove is now 19. Summer and Rocky are both 17. Dylan is 14, Rainy is almost 13 and Julian, our youngest, is 9 years old. Our family was always bonding and each day it strengthened; but the moment Julian was born, the bond was set to never break.
How long have you and your husband been together?
My husband and I will celebrate being married for 11 years this July. We joke that the driver has been driving around the block for those 11 years to assist us in our honeymoon departure, but the children keep calling us back to the house!
What has been the biggest challenge of blended family life?
If you can envision two trees so close together that their trunks and branches touch one another, you will see the connection but still see two trees. Blended families are like the two trees. The outside world sees two trees while the family strives to make it one by intertwining the roots, by nurturing it. However, the innocence of questions such as, "Which child is actually yours?" or "Which one is your real mom?" are always a reminder and a message being sent that the world sees two families joined together rather than seeing one family that came together.
What's the best thing about being a part of a blended family?
The shared love and devotion to each other and the determination to work things out, remain close and always be there for each other. You learn that anyone whom you share these things with is part of your family.
However, our children should really be the ones to answer this one. Here's what they say and I'll bring them in separately so they don't influence each other!
Summer (17): "We all have different personalities, but we are all still very close and we accept each other as who we are. Everyone always has something new to bring to the table."
Julian (9): "Having a big variety of great siblings!"
Rocky (17): "I like having so many siblings and have so many people to rely on."
Dylan (14): : "I don't know, I don't think of us as a blended family. We are all really close and you never get lonely and there is always something to do."
Rainy (12): "It is really cool to be so close to everyone and it is really fun and there is always someone to talk to and it is nothing like any other family."
Cove (19): "I like having four parents and I like being able to play together."
Very sweet. What makes you proudest of your family, Ivy?
I am so proud of their commitment to each other and the belief in our family as one, no matter the social obstacles that come their way.
When I was pregnant with Julian, all of the children felt it would be wrong for their soon-to-be sibling to have only one of the two last names that our family shares. They had a meeting of their own -- they ranged in ages 10 to 3 years old then. They then invited us into the meeting and explained and insisted that Julian's last name be "Capton" which is a marriage of sorts of our two last names, Capodice and Lifton. Although Julian has his father's name (Lifton), you must know that with compromise, tremendous pride and love, Julian Capton Lifton was written on his birth certificate. To this day, we are considered the Capton team. That's when I knew we'd hit our first major milestone moving forward and achieving the status of a "blended family."
What advice do you have for other blended families who feel like a peaceful dynamic is out of reach?
It is not out of reach, it is just that on some days, you feel a little shorter than other days.
I have learned so much over the last 12 years that I have no choice but to use the overused and infamous words of, "If I knew then what I know now..." I recently started writing about the process of blending a family on blendedways.com because there are great things that can be done that make you want to keep moving forward. I can tell you that the most powerful source of our bond is letting everyone have a voice.
And on the days you feel too short and the sight of a peaceful dynamic is out of reach, don't try. Rest and try again tomorrow, it will come.
Click through the slideshow below the see photos of this week's blended family.
If you'd like your own family to be featured on a Blended Family Friday, please email us at divorce@huffingtonpost.com. We're looking forward to hearing your story!
PHOTO GALLERY
Meet This Week's Blended Family!
Keep in touch! Check out HuffPost Divorce on Facebook and Twitter.