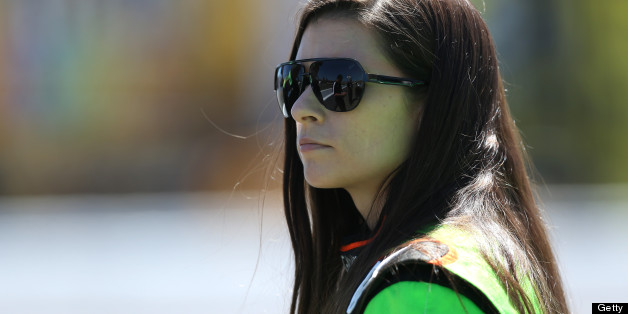 Kyle Petty may not think much about Danica Patrick's prospects as a NASCAR driver, but the 30-year-old racer and model says she's unfazed by the skepticism.
Echoing criticisms of Patrick that he's made in the past, Petty, a former driver and current TV analyst, said Thursday that the young woman's popularity has been more due to the "hype of…marketing" than because of her abilities as a bonafide race car driver.
"She can go fast, but she can't race," he said during an appearance on SPEED's "Race Hub" program, according to the AP.
Patrick, a Spring Cup Series rookie who has on average started in 32nd place and finished 26th in races this season, responded to Petty's comments Friday with indifference, saying that she has become used to gibes about her racing prowess.

"I really don't care," said Patrick, who first gained fame for her success as an IndyCar racer, according to USA Today. "I don't. It's true there are plenty of people who say really bad things about me. I hear about them or I read them or I read them on Twitter. People want me to die. At the end of the day, you just get over that kind of stuff. All you can do is trust that you're doing a good job and that's all that matters and the people around you believe in you."
Not everyone has been taking Petty's comments with as much aloofness, however.
Patrick's former boss and NASCAR driver Dale Earnhardt Jr. defended his protege Friday, saying that Patrick may one day "surprise" her critics.
"If she was not able to compete, I think you might be able to say Kyle has an argument," Earnhardt said, according to the Los Angeles Times. "But she's out there running competitively and running strong on several accounts. I think that she has got a good opportunity and a rightful position in the sport to keep competing, and she just might surprise even Kyle Petty."
A number of other NASCAR drivers have also defended Patrick, with some stressing that the "learning curve" she may be experiencing is not uncommon among IndyCar drivers who transition to NASCAR racing.
BEFORE YOU GO