On your mark... Get set... OoooooohhhhHHHHhhhhhhhhh!
The only thing better than a sex toy race is a good finish -- especially for a good cause!
We first met the Stronic pulsating sex toy in Las Vegas, where four battery-powered dildos pulsated on a 10-foot race course at a whopping 1.5 mph.
This time, in New York, two different types of Fun Factory stimulators raced, complete with a scantily clad announcer and high stakes.
A "bet" could be made on any of four sex toys, and the proceeds went to the Human Rights Campaign, an advocacy group for gay, lesbian, bisexual and transgender individuals.
Stickers featuring HRC's red equal sign read, "DOMA is dead, STRONIC is born."
We won't tell you which toy finished early (watch the video above), but we can tell you that the woman who took home first prize was pleased. Heidi Ondrusek won a Fun Factory sex toy for betting on the winning wiener.
"I was going to get some food after this, but now I'm going straight home," she said. "I have some studying to do."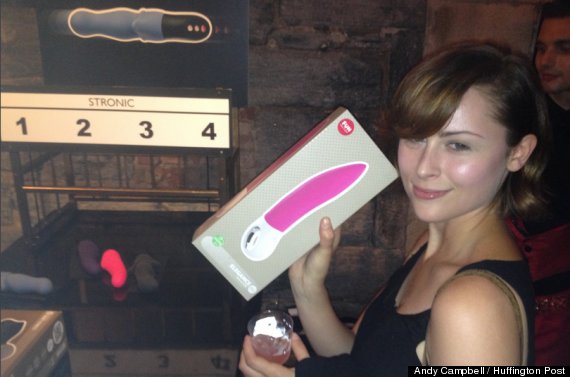 Heidi Ondrusek bet on the winning wiener!
BEFORE YOU GO
PHOTO GALLERY
Sex Toys Of The Future