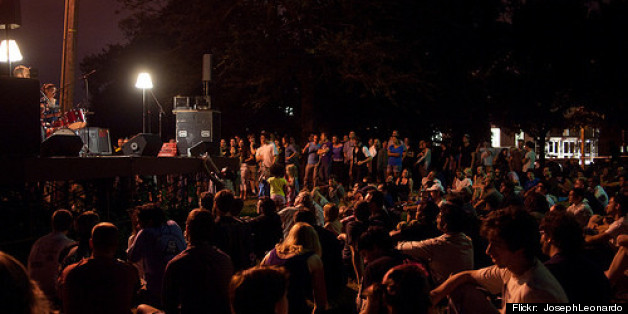 After weeks of hand-wringing, the wait is over: Fort Reno has finally announced its Summer 2013 concert schedule.
Monday, July 8: The Evens
Thursday, July 11: Feed the Bird, Typefighter, Blockhead
Monday, July 15: Thundermilk, The Obsessives, Joy Buttons
Thursday, July 18: Bearshark, Washington Bach Consort
Monday, July 22: The Mauls, Southern Problems
Thursday, July 25: Capital Ghost, The Buzz
Monday, July 29: Humble Fire, The Accidentals, Priests
Thursday, Aug. 1: Nervous Impulse, Stop Worrying and Love the Bomb, The Sniffs
Monday, Aug. 5: Sunwolf, Mary Christ
Thursday, Aug 8.: Quivered, Paint Branch
The announcement of this summer's lineup comes much later than in previous years. Avid fans worried after Fort Reno's account disappeared from Twitter and Facebook, but organizer Amanda MacKaye told The Washington Post, "We just don't feel the need to use Facebook and Twitter anymore, period."
As of Friday morning, Fort Reno's official website was down.
All shows are free and appropriate for music lovers of all ages. Pets are welcome but no alcohol is allowed.
Fort Reno Park is located at Chesapeake and Nebraska Streets NW; you can walk from Tenleytown-AU and Van Ness-UDC Metro stations on the Red Line.