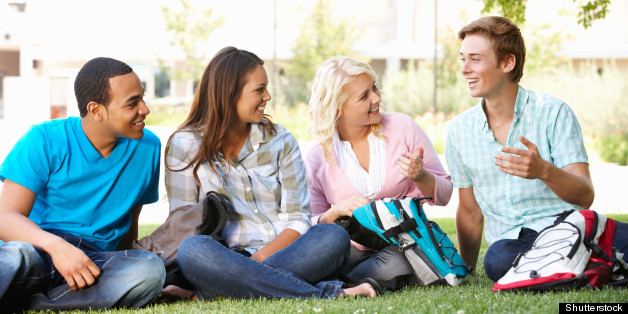 By Jessica Salerno
Summer is all about eating ice cream, laying out, and goofing off with your friends as much as possible, right? Well, you might be a tad off. Because while summer is the season for late nights and road trips, it can also be an awesome opportunity to get a start on the college application process. You finally get to take a breather from school and think about what really matters to you when looking at colleges. Her Campus talked to John Rooney, author of Preparing for College: Practical Advice for Students and Their Families on how to stay productive this summer. Here are nine easy ways to stay productive and still enjoy your summer to the fullest.
1. Think about potential references
Think about whom you want to write your recommendation letters in the fall. Teachers are always a good option. Be sure to work hard and set an example in their class, as well as get to know them a little better. Don't be afraid to show interest in their subject; it'll make it easier for them to write a more personalized letter later on. Colleges tend to prefer recommendations from junior and senior year teachers, so if you don't feel comfortable asking any of your junior year teachers, make sure to head into senior year with the right attitude.
2. Make (or save!) spending money
If you don't already have a job, start looking now! Even if you only work a few days a week, college is expensive and you'll be surprised how quickly your hard-earned cash goes to tuition, books, and daily living expenses. Set a goal for how much you want to save this summer ahead of time and keep track of what you spend. We've got you covered on ways to make money this summer – here are ten easy ways to save money for college.
3. Make a list of what's important to you in a college
Write down what you want to get out of school and consider things like a big or small school, suburban or rural, liberal arts or more practical, and check out our article on things to consider when picking a school. "I didn't actually visit any campuses, but I definitely ended up at the one that was best for me because I spent the whole summer reevaluating my priorities. A lot of the time, even during high school, it's hard to just sit down and really take a moment to figure out what exactly it is you want, especially if it's something that's going to be happening in the future," said Annie Pei, a student at University of Chicago.
4. Research schools
After you make a list of what's important to you, there are a variety of great resources at your disposal. Unigo.com and the HC Pre-Collegiette Guide can help you on what other students have to say about their campus. And head to Collegeboard.org to use their School Search Filter. Don't get too overwhelmed in the beginning, just play around with it until you start to see what you like and what you don't like. Also, don't be afraid to talk to family, friends, and anyone else about their alma mater. "See what other people have said and talk to others about their experience," said Rooney
BEFORE YOU GO
PHOTO GALLERY
Feminist Colleges