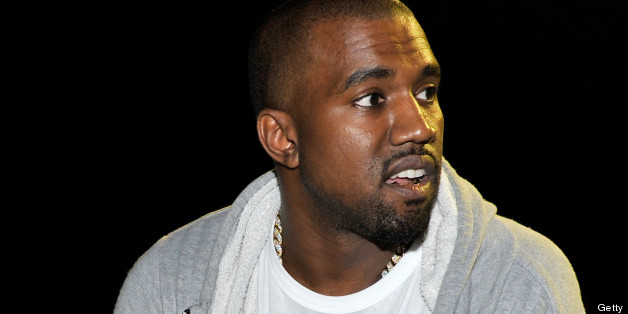 Kanye West stepped out with Kris Jenner Thursday, making his first appearance since Kim Kardashian gave birth to their baby girl, North. But fatherhood doesn't seem to have caused a change of heart in the rapper, at least when it comes to the paparazzi.
Nearly two weeks after Kardashian gave birth, West surfaced for the first time to catch a screening of Brad Pitt's "World War Z" with Jenner in Calabasas, according to X17 Online. The 36-year-old wasn't too happy to see photographers waiting for him in the parking lot.
Dressing in a black hoodie and leather pants paired with gold chains and red high-tops, West grunted at the paparazzo who attempted to congratulate him.
"Don't say anything, don't talk to me!" he said, as Jenner motioned for the photographer to cut it out.
Apparently, the "Yeezus" rapper and his baby mama's mama are on good terms despite an awkward story published in W magazine about West mocking Jenner while discussing his new album. The famous momager opened up about her relationship with her daughter's beau during an interview with "Access Hollywood" Thursday.
"He's just a big teddy bear," she said. "We get along really good, but we always have. I've known him for a really long time. He's been a really close friend of the family, 10 years maybe. I met him through the kids. I would talk to him on the phone, lots over the years."
West and Kardashian have both remained silent since the June 15 birth of their baby (other than her tweet to sister Khloe for her birthday Thursday). Jenner has been doing most of the talking, however.
She stopped by the "Today" show Tuesday and said that North is doing "amazing" at home and is healthy despite being born five weeks early and weighing under 5 pounds. She also told "Access Hollywood" there is no decision about when or how to release photos of the baby.