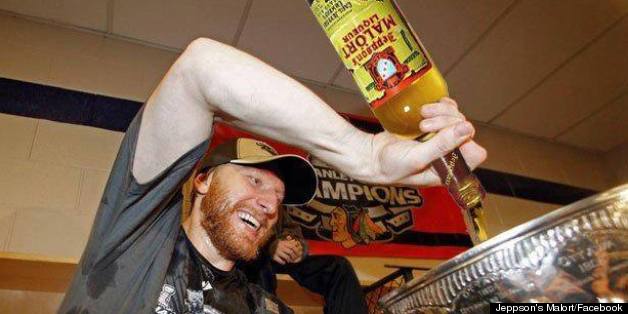 It's been a pretty massive week for "the kinda gross drink you can't leave Chicago without trying."
The fine folks at Jeppson's Malort report that, based on intel from bar owners and suppliers, more people drank the wormwood-based Chicago-made Swedish schnapps on Monday than "any day in history. Period."
Monday, of course, was the day of the Blackhawks' incredible Stanley Cup win. As Chicagoist previously pointed out, malort is the unofficial official beverage of choice among Blackhawks fans at least in part because Jeppson's is distributed by Wirtz Beverages. Plus, the bitter beverage is known for inspiring some truly memorable facial expressions upon its consumption, which is always fun.
Jeppson's was certainly not short on Blackhawks pride on Monday, sharing an almost certainly photoshopped photo of Marian Hossa pouring a bottle of Jeppson's into the Stanley Cup circa 2010, as well as some other Twitpic doozies:
Blurred eyes, full liver, can't lose! #hawks #liquidluck #mondaynightlights pic.twitter.com/lgdpWhVaKa

— Jeppsons Malört (@JeppsonsMalort) June 25, 2013
Getting into the spirit themselves, Fox Chicago's Anna Davlantes and Corey McPherrin did a shot of the unique -- and allegedly medicinal! -- beverage on air Thursday.
It looks like Davlantes in particular wasn't a huge fan:
Tried 'Malort' #chicago alcohol for first time @jeppsonsmalort #Ewww I mean: Refreshing! pic.twitter.com/88JOdIZmvV

— Anna Davlantes FOX32 (@AnnaDavlantes) June 27, 2013
Meanwhile, Blackhawks fans hoping to imbibe with malort at Friday's Blackhawks parade and rally downtown would be wise to leave any such beverages at home: Chicago police will reportedly be enforcing a strict zero-tolerance policy on public boozing at the festivities.
BEFORE YOU GO