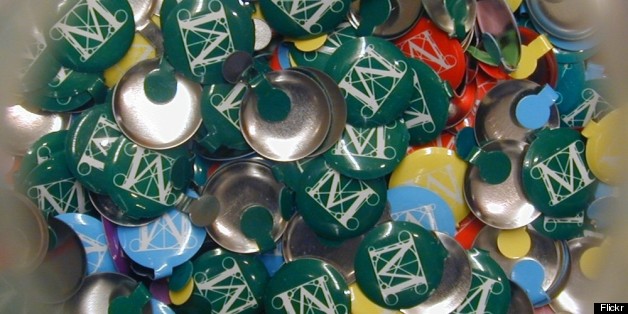 Today marks the end of an era, dear readers. New York's Metropolitan Museum of Art has decided to do away with its iconic button system, replacing the brightly colored badges of art honor with the most reviled of accessories... the sticker.
That's right, the small metal buttons -- the one that tourists proudly wear for days on end during their seasonal visits to the Big Apple -- are going the way of the Dodo. No longer will you be able to horde all 16 rainbow shades of the small metal signage, emblazoned with the perfect Leonardo da Vinci "M," allowing you to stroll past the museum guards without paying the (suggested, we know, we know) $25 fee. Instead you'll have to put up with the hideous adhesive after effects of wearing a sticky piece of paper on your lapel.
So why is the Met saying goodbye to the buttons after 42 years of service? "We realize, without sounding crass, that it's a beloved brand and a beloved symbol," Harold Holzer, the Met's senior vice president for public affairs, explained to The New York Times. "It just became too expensive."
Holzer cited the rising cost of metal as an explanation for the decision, noting that it became difficult to find manufacturers willing to offer a competitive price. From 2011 until 2012, the Met reported record numbers for attendance -- in fact, at 6.28 million visitors, it was the highest attendance number since the institute began tracking visitors over four decades ago. Alas, the stellar performance wasn't enough to save the buttons.
We'll have to wait to see what the Met's 2012-2013 visitor record looks like. Until then, please join us in a moment of silence for the Met buttons. Perhaps we can look forward to some more clever button-inspired works of art? We're looking at you, Ji Eon Kang.
See some reactions to the news below:
Goodbye Met admission buttons, you probably outlived your usefulness but we'll miss you anyway http://t.co/4CbxOJeJzu

— The Atlantic Cities (@AtlanticCities) June 28, 2013
Another victory for capitalism RT @Gothamist The Met Is Replacing Its Buttons With Ad-Filled Stickers http://t.co/LKEeKvcv7b …

— Callahan (@rovingblade) June 28, 2013
RIP: Colorful Met Buttons, 1971-2013
Thank you for always making us feel like we looked cultured. You will be missed! http://t.co/qwKNeDaYnf

— Artsicle (@Artsicle) June 28, 2013
How Shocking: Met Unbuttons -- goodbye metal buttons, an environmentally correct decision http://t.co/VxcphKN5KM

— Patricia Cohen (@PatcohenNYT) June 28, 2013
Oh no! The Met has done away with its rainbow-hued admission buttons in favor of generic paper tickets! pic.twitter.com/MjcXp7v4nW

— Deborah Solomon (@deborahsolo) June 26, 2013
Calling it now: Met will reverse itself on buttons; New Coke-esque conspiracy theories will arise; famous Don Keough quote will be quoted.

— Tom Kretchmar (@tkretchmar) June 28, 2013
Correction: In an earlier version of this article, we misattributed a quote. It was by Harold Holzer, not Thomas Campbell. We regret the error.
BEFORE YOU GO
PHOTO GALLERY
Museum Admission Fees Across The Country