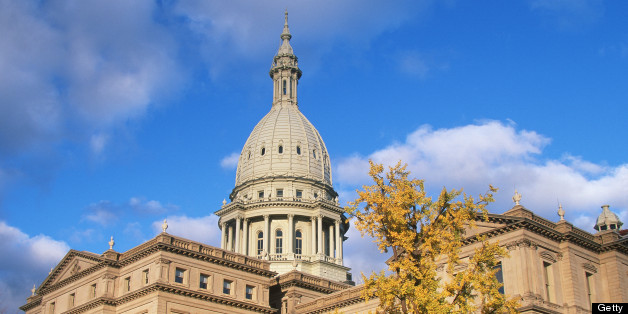 Just days after the U.S. Supreme Court overturned the Defense of Marriage Act, a landmark case for gay rights, a Detroit judge's new decision will improve the quality of life for same-sex couples in Michigan.
On Friday, U.S. District Judge David S. Lawson issued a decision that a law banning school districts and local governments from offering health benefits to domestic partners of public employees is unconstitutional.
According to the Lansing State Journal, Lawson stated that there was a "plausible claim" that the law, which was signed by Gov. Rick Snyder (R) in 2011, violated the Equal Protection Clause of the U.S. Constitution.
"It is hard to argue with a straight face that the primary purpose -- indeed, perhaps the sole purpose -- of the statute is other than to deny health benefits to the same-sex partners of public employees," Lawson said, according to the Associated Press. "But that can never be a legitimate governmental purpose."
The state's claims that it has financial benefits for the state and follows the will of the people "come close to striking (the court) with the force of a 5-week-old, unrefrigerated dead fish," he added.
The ACLU of Michigan challenged the law, which affected all unmarried employees, on behalf of five LGBT public employees last year.
According to the ACLU, the law still allowed insurance for other family members including cousins, uncles and nephews.
In a statement, Ann Arbor teacher Peter Ways, whose partner would have lost health benefits, said they were "breathing a sight of relief right now."
"This law was clearly meant to target families like ours and to make us feel as though we didn't count," he said.
When the law went into effect, Snyder cited it as part of efforts to shore up health care and post-retirement costs, but some critics argued that it could have a long-term negative effect on the state's economy, pushing residents to move away and costing the state in court expenses.
"This law served no purpose to the state of Michigan other than to needlessly discriminate against hard-working families," said ACLU of Michigan Executive Director Kary Moss. "It's hard to encourage talented people and their families to work for public employers in Michigan when they're denied the ability to take care of each other."
According to the Associated Press, Lawson's injunction doesn't end the case, but now gives local governments the ability to restore or create benefits for domestic partners.
A 2004 amendment outlawed gay marriage in Michigan. But in recent months, several efforts are being launched to overturn the ban. A pending court case challenges its constitutionality, new bills introduced by state Democrats allow for same-sex marriage and there is already a drive to put the issue on the ballot in 2016.

BEFORE YOU GO
PHOTO GALLERY
SCOTUS Decisions On Prop 8, Defense Of Marriage Act