Capturing the ethereal glow of the Bay Area is no easy feat. Richard Diebenkorn succeeds where many before him have failed, translating the atmospheric haze of Berkeley, California into paint. An exhibition entitled "The Berkeley Years, 1953-1966," revisits Diebenkorn's affair with the intellectual oasis.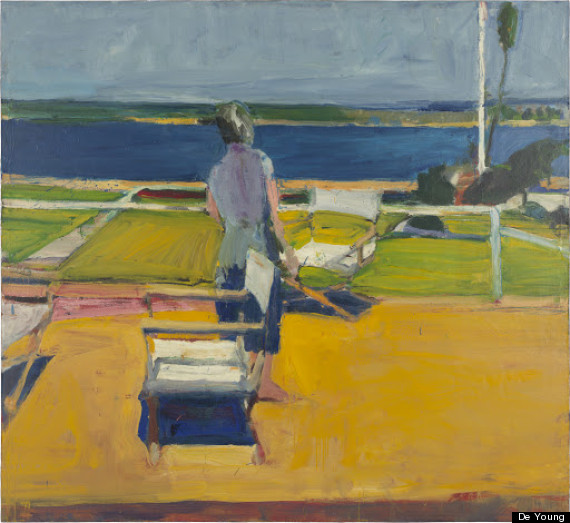 Although he was born in Portland, Diebenkorn was the virtual opposite of the stereotypical Portlandia-esque artist. As Michael Kimmelman described in Diebenkorn's obituary: "Prone to wearing corduroys and button-down shirts, he had a professorial, studiously unbohemian manner that was the very antithesis of the cliche of the slick SoHo artist and entrepreneur."
Independent in his life and work, Diebenkorn was known for switching artistic styles, moving from Abstract Expressionism to lyrical figuration and back again. His work reveals its own thinking process, the indecisive brushstrokes only adding to the impossibly perfect final piece. "I want a painting to be difficult to do. The more obstacles, obstructions, problems, the better," Diebenkorn said in 1985.
Diebenkorn's paintings are as sensuous and emotive as they are thoughtful and calculated. "How do you feel about being in the presence of art that hangs with the most rigorously challenging abstraction and yet is as unabashedly sentimental as holding hands on the beach at sunset?," Mat Gleason aptly questioned. We feel very good about it, very good.
"Richard Diebenkorn: The Berkeley Years, 1953–1966" is on view at San Francisco's De Young Museum until September 29, 2013. The exhibition will feature over 130 paintings and drawings from the artist's "Berkeley period," examining this era in depth for the first time. Let us know if Diebenkorn expresses your California dreams in the comments.
PHOTO GALLERY
Richard Diebenkorn (1922-1993)