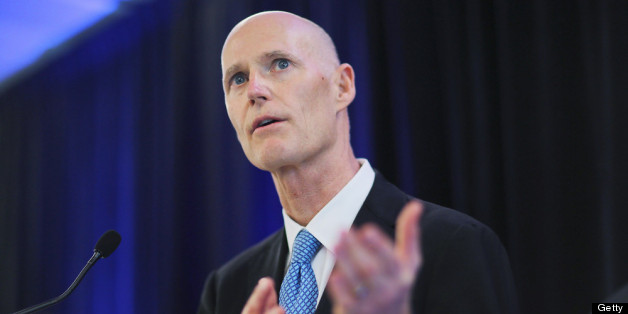 The Tampa Bay Times' Adam Smith has the details on the paper's latest "Florida Insiders Poll," which asks the state's political elites to share their feelings and opinions on electoral matters, and the good news on this occasion lands with Florida Gov. Rick Scott, who may end up matched against former Florida Gov. and hug-needer Charlie Crist in 2014 -- unless he doesn't.
The bottom line on the top line is that "insiders" have grown substantially more bullish about Scott's chances:
A new Tampa Bay Times Florida Insider Poll of more than 120 of Florida's most plugged-in political players finds them nearly evenly divided on whether Scott will win a second term, with 51 percent predicting Scott wins and 47 percent predicting he loses. Just two months ago, the Insider Poll found 60 percent expecting Scott to lose.

While more than seven in 10 Democrats still expect to retake the Governor's Mansion in 2014, Republican optimism in Scott's chances has climbed from just 53 percent of Republicans in April expecting him to win to 75 percent today.
Some rationale:
"When it comes to Rick Scott being re-elected, never underestimate the power of a strengthening economy and $80 million on TV," said one Republican. "Scott will pound into the frontal lobes of every Floridian that he promised jobs and delivered on his promise. He wins on this critical question: Did you do better under four years of Charlie Crist or four years of Rick Scott? It's the classic contest of Beauty and the Geek. I choose Geek."
I am not sure I'd call Charlie Crist a "beauty" or Rick Scott a "geek" -- unless we are talking about the carnival performers who used to bite the heads off chickens. Nevertheless, up until that weird metaphor, I found the 'large war chest plus improving economy' argument to be nominally compelling, especially since we're talking about peripatetic, pathetic party-swapping Crist as the opponent.
Other fun details? Former Florida Chief Financial Officer Alex Sink, who ran against Scott in 2010 and was last seen calling the prospect of a Crist candidacy "a disaster," is zinged by one Crist-supporting insider thusly: "She can either be a kingmaker or put the whole enterprise at risk. But she won't be the nominee."
Sen. Bill Nelson (D-Fla.), who has been coy about running, is deemed the "game-changer" in the race.
And here's a description of a potential Crist vs. Scott matchup:
"Rick Scott gives Republicans the best chance to lose. Charlie Crist gives Democrats the best chance to lose," said a Republican.
So Florida's gubernatorial election is basically the same as Virginia's gubernatorial election.
READ THE WHOLE THING:
Fla Insider Poll: Gov Scott looking stronger; GOPers not overly worried about Crist [Tampa Bay Times]
[Would you like to follow me on Twitter? Because why not?]
BEFORE YOU GO
PHOTO GALLERY
Rick Scott Controversies