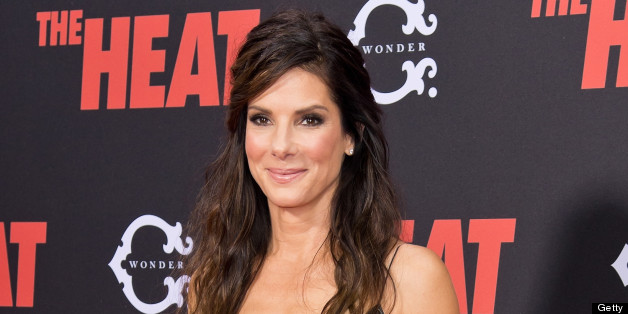 Is Sandra Bullock ready to date again after her contentious divorce from Jesse James?
According to a new interview in The Age, a relationship with anyone other than her 3-year-old son Louis is out of the question at the moment. She said that because of her hectic life as a single mom, most people would have no interest in dating her either.
"He's still very young and one day things could change but right now we have a very busy schedule full of important things to do, like swim class from three to four, and then feeding him takes hours," she said. "So by the end of the day, around eight, you wouldn't want to go out with me anyway because I'm a mess. But when that all calms down, who knows what could happen?"
Bullock and James married in July 2005, and divorced almost five years later in April 2010. The former couple started the adoption process to bring Louis home together, but Bullock finalized the adoption as a single parent after the marriage ended. James remarried in March 2013, to drag racer Alexis DeJoria.
Click through the slideshow below to test your knowledge of celebrity cheating scandals.
PHOTO GALLERY
Trivia: Celebrity Cheating Scandals
Keep in touch! Check out HuffPost Divorce on Facebook and Twitter.