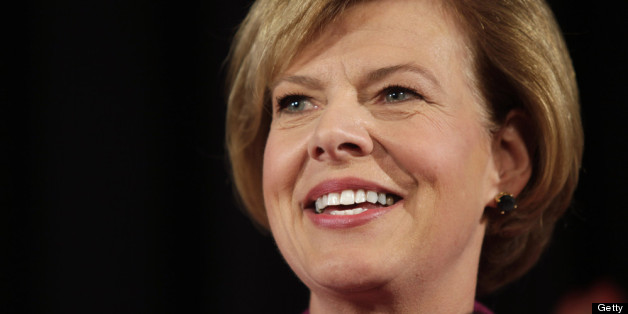 WASHINGTON -- Like so many political junkies, LGBT activists, Supreme Court watchers and interested Americans, Sen. Tammy Baldwin (D-Wis.) was obsessively checking SCOTUSblog on Wednesday to find out the Supreme Court's opinions on marriage equality.
"I was in my office," she told The Huffington Post in an interview, recounting how she learned of the decisions. "I just wanted to be somewhere I could follow it minute by minute. So we were on SCOTUSblog, and then you could hear a squeal go through the office. Everyone was glued to their computer screens."
While most lawmakers and staffers on Capitol Hill were also eagerly awaiting the Supreme Court's decisions on the Defense of Marriage Act and Prop. 8 on Wednesday, the cases held special significance for Baldwin, who is the nation's first openly gay U.S. senator.
In fact, Baldwin went to the Supreme Court to hear the oral arguments in the DOMA case, U.S. v. Windsor, in March. Edie Windsor, the plaintiff in the case, had to pay hundreds of thousands of dollars in estate taxes when her wife died because the federal government did not recognize their marriage. House Republicans took up the defense of DOMA when President Barack Obama's administration decided the law was unconstitutional and would no longer be defending it in court.
"I went for DOMA, in part because I felt so connected to that in so many different ways -- as a lesbian, as a lawyer and as a former member of the House of Representatives," Baldwin said.
Immediately after the court issued its rulings on Wednesday, Baldwin put out a statement saying it "made a strong statement for equality and freedom, overturning discrimination against gay and lesbian American citizens simply because of who they love."
BEFORE YOU GO
PHOTO GALLERY
Politicians React To Prop 8 And Defense Of Marriage Decisions