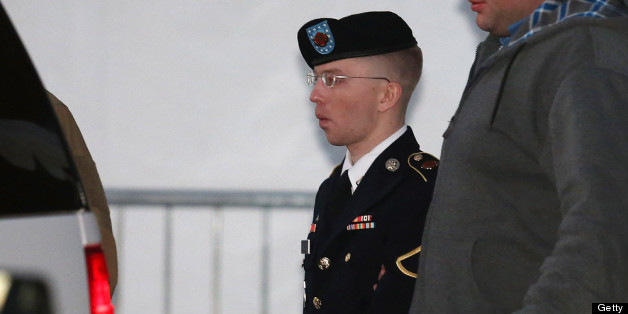 FORT MEADE, Md. -- A military judge dealt Bradley Manning's defense a blow on Friday, ruling that government prosecutors can enter two tweets from WikiLeaks into the trial record as circumstantial evidence against him.
For weeks, government prosecutors and defense lawyers have argued in court over how to authenticate evidence in the digital age, and whether the tweets are relevant. Manning has admitted guilt in 10 of the 22 charges against him, but the evidence entered Friday could go toward proving some of the most serious charges against him, including aiding the enemy, which carries a potential life sentence.
By entering the tweets into the record, the government hopes to show that Manning was following WikiLeaks' directions, and that he knew what would happen once he handed over sensitive government documents. Col. Denise Lind will still need to decide how much weight she should place on the tweets -- especially since the government has not shown any evidence that Manning actually read them -- but she can now officially consider them.
The tweets are relevant for four charges, Lind ruled: stealing government property, by downloading a list of email addresses for every servicemember in Iraq; violating the Espionage Act, by giving WikiLeaks an encrypted video of an Afghan airstrike; wantonly publishing military intelligence online; and aiding the enemy.
Have encrypted videos of US bomb strikes on civilians http://bit.ly/wlafghan2 we need super computer time http://ljsf.org/

— WikiLeaks (@wikileaks) January 8, 2010
We would like a list of as many .mil email addresses as possible. Please contact editor@wikileaks.org or submit

— WikiLeaks (@wikileaks) May 7, 2010
WikiLeaks' plan to decrypt the still unreleased video of that horrific airstrike, prosecutor Capt. Alexander von Elten argued in a brief, "as openly and publicly advertised on Twitter, is relevant to the accused's knowledge of the scope of the disclosure of compromised information" for the charge of aiding the enemy.
Lind accepted that argument, but did reject for now the prosecution's request to authenticate the Wayback Machine's archived version of a 2009 Wikileaks "most wanted" list as circumstantial evidence to show that the organization intended to publish the information it received.
The prosecution's victory came after the trial had briefly taken a comic turn on Thursday, as Manning's defense attorneys questioned a government forensic witness, Special Agent Mark Mander, who testified about the provenance of the tweets.
Mander seemed flustered by Twitter's switch away from hashbangs and toward HTTPS, both steps that have slightly changed tweets' URL structures since WikiLeaks originally made the tweets in 2010.
"I highly suspect that something has changed on their website," Mander told the court, without being able to specify what.
He also described trying -- and failing -- to flip all the way back in WikiLeaks feed to 2010 using infinite scroll.
"There's like 20,000 tweets," Mander said. "I scrolled and I scrolled."
Defense attorney David Coombs stifled a grin as government prosecutor Capt. Ashden Fein struggled with Mander to explain what the word "feed" means.
On Friday, however, the defense table was stony-faced as Lind read her ruling. Lind found that the tweets could be considered authentic because the text of both tweets, along with the WikiLeaks logo, their date and time, and their serial numbers are identical despite the changes to the URLs.
The trial is closing out its fourth week on Friday. The government is expected to wrap up its case in main soon, after which the defense will present its case, and then both sides will call witnesses to testify as to what sort of sentence Manning should receive.